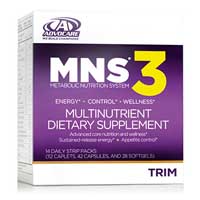 Advocare MNS 3 is a nonprescription weight loss pill made by a company called AdvoCare International, as the product name suggests. That rather large supplement company is located in Plano, Texas. It makes pills and products for a number of different sectors in the wellness industry.
According to the official webpage for Advocare MNS 3 on the manufacturer's website, using these pills will provide a dieter with a "multinutrient dietary supplement that focuses on energy, wellness and appetite control." The description of the product mentions appetite control in a number of different places, making it clear that this diet pill is marketed toward people who are struggling to lose weight because they feel hungry. That said, it also underscores the added nutrition it claims to provide.
Beyond that, it says that it will provide the user with the energy he or she needs throughout the day. That energy is released slowly over time, as opposed to being released in a single burst which could result in spikes and crashes in energy.
Advocare MNS 3 contains caffeine, but the site is careful to point out that its caffeine content is less than half of what some of the brand's other products contain.
At the time this review was written, the Advocare MNS 3 ingredients were: Vitamin A (as beta-carotene), Vitamin C (as ascorbic acid/mineral ascorbates),Vitamin D (as cholecalciferol), Vitamin E (as d-alpha tocopheryl succinate and mixed tocopherols), Vitamin K (as phytonadione), Thiamine (as thiamine HCl), Riboflavin, Niacin (as niacinamide), Vitamin B6 (pyridoxine HCl), Folic acid, Vitamin B12 (as cyanocobalamin), Biotin, Pantothenic acid, Calcium (as amino acid chelate), Phosphorus (as amino acid chelate), Iodine (from kelp), Magnesium (as amino acid chelate, oxide, ascorbate and phosphate), Zinc (as zinc monomethionine –OptiZinc® ), Selenium (L-selenomethionine), Copper (as amino acid chelate), Manganese (as amino acid chelate), Chromium (as chromium citrate), Molybdenum (as amino acid chelate), Potassium (as potassium chloride/amino acid chelate/phosphate/bicarbonate), Citrus flavonoids, Green tea extract (leaf – Camellia sinensis), Choline (as bitartrate), Garlic powder, odorless (bulb – Allium sativum), Inositol, Alpha-Lipoic acid, N-Acetylcysteine, Lutein (as esters from Tagetes sp.), Lycopene, Silicon (as amino acid chelate), Boron (as amino acid chelate), Coenzyme Q-10, Vanadium (as bis-maltolato-oxovanadium), Eicosapentaenoic acid (from marine lipids), Docosahexaenoic acid (from marine lipids), Horsetail extract (aerial – Equisetum arvense), Ginger extract (root – Zingiberofficinale), Guarana extract (seed – Paulliniacupana), ThermoGen-HC™ (Gotu kola leaf, chamomile flower, Chinese licorice root, sweet orange peel, cinnamon bark, ginger root, peppermint leaf), Cayenne powder (fruit – Capsicum annuum), Oolong tea extract (leaf – Camellia sinensis), Taurine, Guggul gum resin, Rutin.
The specific amount of caffeine in this product is not listed on the website, though it's clear by the ingredients that it is present in several forms. The site does say that it provides the equivalent to 130 mg to 160 mg but gives no greater precision than that. This is about the same as one and a third cups of coffee. Anyone sensitive to stimulants may still react to using this product.