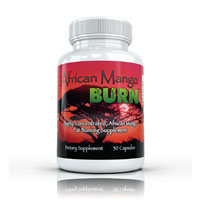 African Mango Burn is an over the counter weight loss pill designed to assist people who are attempting to lose weight. The claim made on the official website is that this product will help dieters by giving them control over their appetites, a boosted metabolism, and an increased level of thermogenesis in their bodies.
The statements and promises made about this product are far from subtle. In fact, the official site calls these pills "the most potent and highest concentration of African Mango available on the market." As a result, this product is meant to provide users with the weight loss benefits associated with that ingredient. The official website for this product states that some of those benefits include a higher metabolism, maximum fat burning and appetite suppression. That said, it also claims that users will enjoy additional health benefits such as reduced cholesterol levels, blood pressure levels and blood glucose levels.
To take this product according to the package directions, a user is required to take 2 capsules at a time. That amount provides the user with a dose of 1,200 milligrams of African mango extract as well as 200 mg of green tea extract. Each bottle contains 30 pills, which translates to a 15 day supply. That said, the product is typically sold in packages of two bottles, which means that one purchase provides a supply for a full month.
African mango is also known by the name Irvingia Gabonensis. It is a tree native to West and Central Africa. It produces a fruit that is not unlike a mango in appearance, which is where it received its common name.
The fruit itself isn't anything miraculous in terms of uniqueness except that it is quite high in soluble fiber. It is that fiber that is the central element to the weight loss claims made about this particular ingredient. It is meant to be taken about a half hour before eating the largest meal of the day. Reportedly, it will reduce triglycerides, fat cell growth, cholesterol and appetite while increasing glucose control and fat breakdown.
It is unclear precisely how that ingredient is supposed to cause fat burning. While the marketing claims for this product state that it increases fat burning by certain specific percentages, the studies from which those figures were taken were not cited. Therefore, it is unclear as to whether those figures are from reputable studies published in peer reviewed industry journals, or whether they were created by the manufacturers of the product based on their own tests.