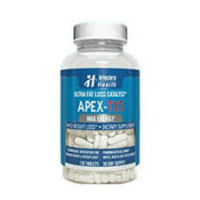 APEX-TX5 is a non-prescription weight management tablet made exclusively of ingredients that have been thoroughly studied. In fact, the official website for the manufacturer of this product, Intechra Health Inc., has gone to the trouble of listing each ingredient on its official website along with links to studies conducted on these substances and that were published in peer reviewed industry journals.
The ingredients in APEX-TX5 include clinically tested metabolism enhancers, thermogenic intensifiers, appetite suppressants and fat loss catalysts. These come together to create a range of helpful tools to support a healthy and complete weight loss strategy. The official Intechra Health site has a section dedicated to describing this product, how it works and they ways in which it supports dieters throughout their healthy fat loss efforts.
It is important to note that the official information for this diet pill never actually says that taking it will be the solution to all weight loss woes. That is, it doesn't claim that you can take this pill and do nothing else but still expect to see the numbers falling on the scale.
Though it would be lovely if this product could achieve that goal, it's actually good news that the manufacturer doesn't make that claim. The reason is that not even the best weight loss pills – prescription or over the counter – have ever been scientifically proven to generate meaningful weight loss over time when it is not taken along with diet and/or exercise changes. Therefore, it's actually refreshing to see that, unlike many products within the weight loss category, these false claims are not made about APEX-TX5.
Instead, this product is meant to work by making healthy weight loss efforts easier to start and maintain. This is meant to occur through the product's appetite suppressants, thermogenic fat burners and energy boosters.
The reason is that appetite suppressants can help a dieter to take control over what he or she eats because food cravings will be reduced or eliminated. Cardio exercise can reach its maximum potential not only because of the added fat burning but also because of the energy boost that ensures the best possible performance at the gym.
This tablet is made of a proprietary formula. The APEX-TX5 ingredients are: Acetyl-L-Carnitine, Caffeine Anhydrous, (as 1,3,7 Trimethylxanthine), Beta-Phenylethylamine HCl, L-Tyrosine and Theobromine. They are combined at a cGMP facility. This means that the FDA has certified the good manufacturing practices for the facility making this product. As a result, consumers can feel confident in the safety and quality standards used to produce every APEX-TX5 pill.