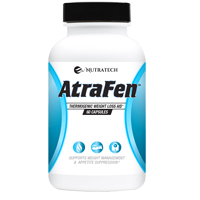 Atrafen is a nonprescription diet pill its manufacturer sells as a high quality and balanced supplement product. That company, called Nutratech Atrafen, has taken a careful tack not to make any overstated promises. Unlike many companies that claim their pills will magically remove body fat, this product is meant to support other efforts the user makes in order to improve the effectiveness of those efforts. Instead, the marketing concentrates on describing the quality of the pills and their ingredients.
The Atrafen pills are designed to make it easier for dieters to keep up with the challenges associated with natural weight loss. The marketing points out specifically that it will not lead to rapid weight loss, only healthy weight loss support. They underscore that rapid weight loss causes problems with the metabolism and hormones, which will nearly certainly cause lost weight to be regained. Instead, the premise behind this product is to make the weight loss process faster than it would be for the dieter to do alone, and it may speed things up a little, but only to a point that is manageable and that the body can maintain.
The official website for this product claims that thermogenesis is the main reason this weight loss occurs. The site does provide an explanation of thermogenesis and why it works. It states that it causes the body to produce more heat, which requires additional fuel in the form of calories from food or stored fat on the body. The site also says that this additional calorie and fat burning rate will continue for a considerable amount of time throughout the day, even if the individual is sedentary for a number of hours.
This is supposed to make it easier for dieters to get more results out of the weight loss efforts they're already making, such as healthy eating and exercising.
Aside from fat burning, the official website also says that Atrafen can help a dieter to feel more satisfied by the foods they eat and can reduce the appetite overall. This may be helpful for dieters who are trying to cut back on calories and on the overall amount of food they're eating. Moreover, it may also help to reduce the number of food calories that are burned off by the product's thermogenesis, so that the body fat will be burned as body heat fuel instead.
At the time this review was written, the Atrafen ingredients were: raspberry ketones, African mango extract, irvingia gabonensis, acai fruit, green tea extract, resveratrol, caffeine anhydrous, apple cider vinegar, kelp and grapefruit.