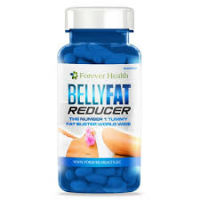 Belly Fat Reducer is an over the counter diet pill formulated to assist people who are struggling to be able to lose weight. It is designed to focus specifically on weight loss in the lower ab/belly area. This is known to be one of the most problematic zones for people to shed the excess pounds.
Belly Fat Reducer is manufactured by a U.K. company called Forever Health. That manufacturer makes and sells a range of different health and wellness supplements including those in the category of weight loss.
Diet pills frequently claim that they will be able to help people to target a specific part of their body such as around their middle or on their butt and thighs. In the case of Belly Fat Reducer, as the name suggest, the claim is that it will help to beat the bulge and bloating frequently located around the waistline.
Still, whenever considering various types of diet pill, it's important to recognize that these types of claims are rather deceptive. While there are many diet pills that can help to accelerate the results of a weight loss effort and they may help to reduce your weight around the belly area, this is not because of targeted fat loss. No ingredient or diet pill has ever been proven to cause weight loss in one specific part of the body.
Despite frequent claims to the contrary, the best that diet pills can offer is overall weight loss, which includes the parts of the body you'd most like to target. While this doesn't mean that Belly Fat Reducer doesn't work, it does mean that its promise that it will hone in on the lower abs area are not entirely truthful. When using this product, the most you can hope for is to lose weight throughout your body, including your belly.
The best way to know whether or not this product has the chance to help you in a way that will be safe and effective for you is to speak with your doctor and to do your research into the ingredients. Unfortunately, at the time of the writing of this review, the official Forever Health website did not reveal the complete ingredients list for this product, making it much more difficult for a dieter to inform him or herself.
That said, the product description on that website mentioned certain substances that were included in the formula. It's not evident whether or not the mentioned substances make up all the active ingredients within this formulation, but it provides a place to start.
The ingredients include trimethylxanthine (caffeine), green tea extract and chromium picolinate.