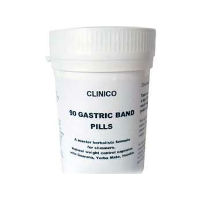 The Clinico Gastric Band Pill is one of a large and growing number of diet supplements claiming to provide the type of results achieved through weight loss procedures. As soon as the approval and popularity of the gastric band occurred, it wasn't long before diet pills found their way to market shelves trying to link themselves with that success.
This specific product's official website claims it provides "'Crash' weight loss without hunger." It also claims that results will be visible in as few as three days from having started the use of the product. It calls itself a unique appetite suppressant (or, in the official website's spelling, a "supressant") as well as a fat burner. It says it has been designed "for the long term obese," though it doesn't clarify exactly what that statement means. In fact, much of the content on the site reads as though it has been run through a digital translator and may originally have been written in another language. It is riddled with typos, word repetitions and nonsensical statements. This, despite the fact that it is being advertised and sold on a U.K. website.
Interestingly, this "scientific herbalism," based product also claims to have a "flexible formula." It's own description specifically points out that the formulation is continually being changed and updated. While they state that this is for the purpose of being optimized – though the goal of the optimization isn't mentioned – this could be quite uncomfortable for dieters. The company behind this product flat-out states that its formula is "constantly evolving" and is "not set in stone."
Therefore, it makes it very difficult for a dieter to know what he or she will be getting. Even if the product actually worked upon first use, the next purchase may not necessarily provide the same product. Moreover, if a friend or family member tried it and liked it, there is no way to know if you will be purchasing pills made of the same ingredients.
It repeatedly states that it has been tried and tested for over 15 years and that it has "thousands of testimonials" in its files. However, if it is always changing its formula, then consumers can't know if the testimonials shown on the website are actually related to the Clinico Gastric Band Pill formula being sold at that specific time.
Moreover, with an ever-shifting formulation, it would make it nearly impossible for consumers to accurately discuss this product with a doctor. For that reason, it would be very difficult to recommend this product.