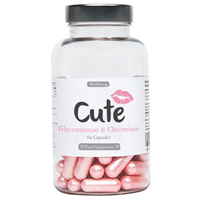 Cute Craving Crusher is a diet pill made and manufactured by a company in the United Kingdom called Cute Nutrition. This is meant to be an appetite suppressant pill that will assist female dieters in being able to control cravings that would otherwise cause them to overeat or make weight loss more uncomfortable than it has to be.
Cute Nutrition is a company that claims to prioritize healthy eating and an active lifestyle in order to achieve weight management and overall wellness. The company develops products that are meant to promote better health, happiness and strength among their users. The official website for this brand states that its team is made up of "nutritionists, personal trainers and fitness and sport lovers." Together, they work to inspire and educate strong women.
Cute Craving Crusher is only one of several products Cute Nutrition markets to women in its distinct pink packaging with a kiss mark as a logo. This product, like all the products sold by this company, are non-GMO, contain quality ingredients and are produced in a facility "of the highest standard."
This product is meant to help dieters to feel fuller more quickly so they will be less likely to overeat. Moreover, the official website claims that the chromium picolinate in this diet pill will provide a metabolism boost while promoting fat loss. That is an interesting claim about that ingredient, which the Mayo Clinic claims is nowhere near being adequately proven to be able to make any solid weight loss claims.
What makes it so interesting is that the majority of claims made about chromium picolinate in the weight loss supplement marketplace state that it will assist in keeping blood sugar levels even. While this could potentially help to reduce sugar cravings, may promote a healthier insulin response and could even make it easier for the dieter to maintain a more even energy level (instead of spikes and crashes), most don't claim that it would be a fat burner or metabolism enhancer.
The Cute Craving Crusher ingredients are: glucomannan & chromium picolinate. The glucomannan in this formula is a type of fiber that absorbs water. If used in an adequate quantity, it may help to make the stomach feel fuller and reduce hunger pangs until it is sent out through digestion (without adding calories as it is not absorbed by the body). That said, the quantity of this ingredient within these capsules is not provided on the official website.