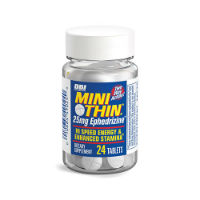 DBI Mini-Thin is a nonprescription weight loss supplement that markets itself as an energy bill. It doesn't disguise the fact that it is based on stimulants. In fact, it places the spotlight directly on it.
Stimulants can, after all, boost a person's energy level and make them feel more alert. Many dieters can benefit from that type of effect. Therefore, instead of trying to bury the fact that they have stimulants in their formula – as is the case with many diet pill manufacturers – DBI has put it right out there in the open for customers to see.
That said, just because DBI Mini-Thin is open about its advertising, it doesn't necessarily mean that the product will work. It's important to take a closer look before choosing this or any other diet pill.
Aside from the highlighting on the fact that this product is an energy pill, the next thing that stands out the most about the way this product is described on its official webpage is that it contains 25 mg of a substance called "ephedrizine®". DBI thinks this fact is so important that it points this out right next to the product name . It is emblazoned on the top of the screen in a larger font.
It's clear that this is meant to suggest that it contains a substance that is the same as or similar to ephedra or ephedrine. That said, ephedrizine is not the same thing as those substances at all. This is actually good news because ephedra/ephedrine are banned in the United States and many other countries for use in weight loss supplements. The ban was put into place after several people died and experienced other serious health complications as a result of using products containing it.
Ephedrizine is similar to ephedra in that it is also a stimulant, but it does not contain any ephedra. It is a proprietary blend consisting of caffeine, corynanthe (yohimbine), nut (though it doesn't specify which nut. Perhaps it is kola nut, a common stimulant in diet pills, but this is not officially confirmed), and green tea.
Based on those ingredients, it's clear that DBI Mini-Thin is essentially a caffeine pill. Each of its ingredients contains caffeine and only green tea is known to provide dieters with benefits other than caffeine's stimulation. That said, for green tea to be effective, it must be used in high amounts (studies typically use at least 500 mg per day for successful results) and as this product contains only 25 mg of ephedrizine per dose, it is unlikely that users will obtain enough to meet the quantities used in most research.