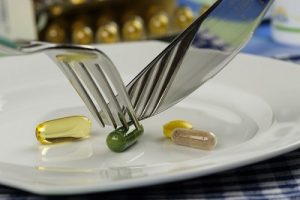 There are a number of important things to consider before you decide on a diet pill to buy. Buying diet pills can be a great experience, but it can also be disappointing. Read these 5 tips for buying diet pills that will help you make the best choice and purchase.
Top 5 Tips for Buying Diet Pills
1. Set Realistic Weight Loss Goals
Starting off our list of the top 5 tips for buying diet pills is: set your goals. Before you start taking diet pills, determine what your healthy weight should be. There are a number of online calculators that can help you do this. Keep in mind that diet pills do not work miracles. If you have a lot of weight to lose, plan on losing it over a realistic period of time. Most health professionals agree that losing weight at an average of 2 pounds a week is safe. Of course, many people at the beginning of a diet will lose much faster. Whatever your weight loss goals may be, it is very important that you eat a healthy diet. Never starve yourself to achieve rapid weight loss as this will likely result in weight gain over time and may cause serious negative health effects.
2. Plan Out Your Diet and Exercise Regime
Diet pills are a great tool to help you lose weight, but will not work effectively unless they are combined with diet and exercise. Before you buy diet pills plan out how you are going to change your eating habits. This may include joining a commercial weight loss program or just following a low-calorie, healthy diet that you do yourself. Also, plan to exercise at least three times a week. If it has been a while since you've exercised then you'll want to ease yourself into it slowly. Start by walking or doing other low-impact exercises and then gradually increase the intensity of your workouts.
3. Visit Your Doctor for a Checkup
It is strongly recommended that you visit your doctor for a check up before you buy diet pills. Whether the pills are prescription or non-prescription, it is always a good idea to get the go ahead from your doctor. Health conditions, such as high blood pressure, can be made dramatically worse by the use of diet pills, which can result in serious side effects.
A simple visit with your doctor can also give you more information regarding how much weight you should aim to lose. That info can influence your overall weight loss and fitness goals, as well as determine what type of diet pill you will end up using.
Your doctor can diagnose you as overweight or obese, give you tips regarding the types of ingredients to take, as well as which ones to avoid, and advise you on whether or not a prescription product would be a suitable option. Plus, you can talk about diet and exercise strategies, too, as these can also help you achieve your goals.
4. Read the Fine Print
Online pharmacies will often have a long and wordy fine print section that outlines their policies for refunds, shipping, charges and more. Although tedious, it is always recommended that you read the fine print before buying diet pills to avoid any unpleasant surprises, such as recurring credit card charges.
In addition to reading the fine print from an online pharmacy, however, you should also read the fine print that comes with any diet pill that you are planning on buying. This is actually one of the most important of the 5 tips for buying diet pills because this simple step can give you a lot of insight into how safe and effective a product will be for you. Look for warnings about who shouldn't take it, read through the precautions list, check out the potential side effects, look through the ingredients list and the directions for using the product safely, and more.
5. Choose the Right Diet Pill for You
If you have made it through the above tips for buying diet pills then you are at the stage where you need to decide what diet pill is right for you. For example, if you have difficulty controlling your hunger, you should start looking for a diet pill that contains an appetite suppressant. If you want a boost of energy to lift you during the day and give you extra energy for working out, then you will want to consider diet pills with ingredients that increase your metabolism, such as caffeine or green tea. Before you buy diet pills, it is recommended that you look into the ingredients it contains. This should give you a good idea whether the diet pill will be a good choice for you. Diet pills that don't list their ingredients should be avoided.
Diet Pill Shopping Tips for Those Who Prefer to Shop Online 
In addition to the 5 tips for buying diet pills we discussed above, there are some other things to consider to help ensure you make the smartest decision, especially when you are buying prescription diet pills that your doctor recommended.
If you are planning on purchasing your prescription diet pills online, be sure to shop only from reputable online pharmacies, as there are a lot of fraudulent sites out there that are only going to steal your money, or send you products that don't work or are potentially harmful. In fact, according to Poison.org only 4% of the pharmacies that you find online are actually operating legally!
How can you tell if an online pharmacy is legitimate and trustworthy? Well, they should require that you show a prescription from your doctor, they should have the following:
A secure checkout method and good customer service in case you have questions or concerns at any point in time
A physical mailing address in the U.S.
A licensed pharmacist on hand to answer questions about your prescriptions
Remember These 5 Tips for Buying Diet Pills When You Start Shopping!
These 5 tips for buying diet pills will guide you on your way to choosing the best diet pill for you. Buying diet pills can be an exciting part of your weight loss program, but should not be taken lightly. If you take your time to make an educated decision about buying diet pills, you will benefit greatly in the end.