Of all the weight loss products sold, Hoodia is likely the most well known. Almost all weight loss supplement websites sell at least one form of Hoodia diet pills, either as pure hoodia or as part of a proprietary blend of ingredients. As much as there is differences in hoodia diet pills available, so is the differences between how much these products cost.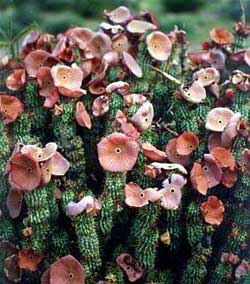 Does Hoodia Work? Despite the abundant use of Hoodia in diet pills there is still very little evidence that Hoodia is effective for suppressing appetite. Other than testimonials written on websites that sell hoodia products, there are very few positive reviews from people who have taken hoodia and lost weight. It has been specutlated, however, that this rash of reports against hoodia is likely due to the fact that a large percentage of hoodia products either contain adulterated hoodia (hoodia cut with other ingredients) or do not contain hoodia at all.
When looking to buy Hoodia diet pills, your money is best spent on products that contain Hoodia from South Africa. Hoodia grown in the U.S., China and Mexico are a poorer quality and contain less of the P57 molecule that is responsible for appetite suppression. Also, only purchase products that are made of Hoodia Gordonii. There are over 20 different species of the hoodia plant, but only Hoodia Gordonii contains the P57 molecule. Finally, in the case of buying Hoodia diet pills, cheap is not better. For the most part, cheap Hoodia diet pills are made from poor quality plants or use extraction methods that render the ingredients useless.
As you can see, answering the big question of "Does Hoodia Work?" is more difficult that one would imagine. It is quite likely that because of the large percentage of poor quality hoodia products sold, very few people actually have the chance to experience what it is like to take real hoodia. Hopefully, in the future there will be companies that can prove and certify the quality of the Hoodia they use in their products. Until then, the ability of hoodia to suppress appetite will remain largely a myth for most of us.