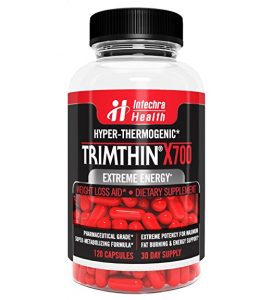 Diet pills could be a great go-to product if you are in need of some extra support while you are trying to lose some weight. But not all diet pills are created equal. For example, the pills that are designed to help you burn fat and calories while also giving you greater amounts of energy can be especially beneficial. After all, dieting could make you feel tired and ruin your mood, so diet pills that can keep your mood and energy high are definitely a plus.
Which are the best diet pills at boosting energy levels? Keep reading to learn about a few of the top options that are available over-the-counter and without a prescription.
APEX-TX5
One of the top weight management products that you can get without a prescription is Apex-TX5. These pills contain ingredients that have been clinically tested to support your metabolism, increase fat burning, and boost your energy level throughout the day. What more could you ask for? Ingredients include energizing, natural caffeine, as well as L-Tyrosine and Theobromine.
FENFAST 375
Another popular option for those who are hoping to take diet pills without a prescription is FenFast 375, which contains an energizing formula, thanks to ingredients like Beta Phenylethylamine HCl, 1,3,7-Trimethylxanthine, L-Theanine, and Hordenine HCl. And on top of giving you more energy, this product will also help you control your appetite so that you can eat fewer calories and achieve your weight loss results without feeling hungry, deprived, and cranky.
PHENBLUE
PHENBLUE contains ultra energy enhancers, so this is a go-to weight management formula for a lot of people who don't want to get a prescription diet pill but who still want to achieve great results. The extra energy that you can derive from these pills will help you take your workouts to the next level. Beyond that, PHENBLUE can help control your appetite, as well as burn extra fat. Ingredients include Theobromine, Organic Matcha Green Tea Leaf Powder, and Caffeine Anhydrous (1,3,7 trimethylxanthine), all of which can give you energy.
3G Burn
Those who are looking for a product that contains natural ingredients for energy should check out 3G Burn. In addition to suppressing your appetite, these pills could help to burn fat, block fat, and enhance energy for an active lifestyle. Energizing ingredients include Caffeine Anhydrous, Green Tea Leaf Extract, and Garcinia Cambogia Fruit Extract (50% HCA).
Weight management products like those listed above could help you get the results that you want during your weight loss journey, so definitely consider giving them a try if you are struggling.