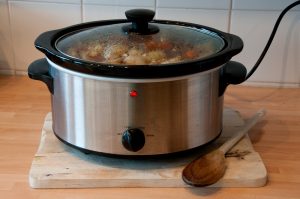 Your slow cooker is a great tool that you can use to cook your food without much effort. You can even leave it on while you are at work so that you can come home to a fresh, warm, home-cooked dinner.
If you are thinking about enjoying a hearty stew at the end of a busy day, check out the following recipes, as they are simple and healthy and sure to fill you up.
A Simple Beef Stew
To make this stew, heat a bit of olive oil in a skillet set over medium heat. Then season 2 pounds of beef (cut into cubes) with salt and pepper before adding it to the skillet and cooking until browned.
Put the beef, along with a pound of quartered baby red potatoes, a diced onion, 3 minced cloves of garlic, and 4 carrots cut diagonally, into your slow cooker. Mix in 3 cups of beef broth, 2 tablespoons of tomato paste, 1 tablespoon of Worcestershire sauce, and a teaspoon each of dried rosemary, dried thyme, smoked paprika, and caraway seeds, plus 2 bay leaves.
Cover and cook on high for 4 hours. Then combine ¼ cup of flour with ½ cup of your stew broth and stir this mix into the slow cooker. Cover and cook on high for another half hour. Serve, and enjoy!
A Vegan Stew Even Meat Eaters Will Love
You don't need to add meat to the mix to have a hearty and yummy stew that will fill your belly with nutrition.
Start by heating some olive oil in a medium skillet over high heat. Then add in 2 chopped medium bell peppers and a chopped medium onion. Cook these for roughly 5 minutes while you stir frequently. The onion should be translucent before adding in 2 cloves of coarsely chopped garlic and cooking for about a minute.
Put your onion mix into your slow cooker and add in 2 cups of vegetable broth, a 14.5-ounce can of diced tomatoes, 2 15-ounce cans of chickpeas that have been drained and rinsed, 1 tablespoon each of maple syrup, curry powder, and ginger, and ½ teaspoon each of black pepper and salt. Mix everything together, cover, and cook for 3 hours on high.
Next, mix in a medium cauliflower, cut into florets, before covering and cooking for another hour on high. Finally, mix in a cup of coconut milk and 10 ounces of raw baby spinach leaves. Cover and cook for an additional 10 minutes, on high, until the spinach has wilted. Serve, and enjoy!
With your slow cooker, you can do a lot and you can enjoy a variety of delicious and nutritious recipes. These stews are sure to hit the spot, so definitely consider giving them a try.