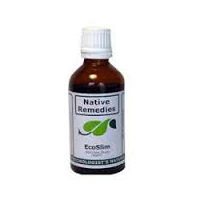 EcoSlim is a type of weight loss supplement that is sold in the form of a liquid herbal product. It is meant to help to support the metabolism and encourage the management of a healthy body weight. The manufacturer of EcoSlim is a company called NativeRemedies.
That business recommends that dieters use EcoSlim while following an overall healthful lifestyle. This is meant to include nutritious eating and regular exercise. It claims that when these components are combined with the use of EcoSlim, it supports dietary fat breakdown within the digestive system. It is also meant to balance the mood and level off blood glucose. Moreover, this supplement is supposed to be able to reduce the inclination for "comfort" eating.
At the time of the writing of this review, the official webpage for this product on the manufacture's website included the following in the formula: Bladderwrack, Cleavers, Malabar Tamarind, Dandelion, Licorice, Centaury, Guarana, Tumeric, Ginger, Cayenne Pepper.
Those substances are all quite commonplace in the natural health industry. They are all associated with various types of medicinal benefits. That said, none of them have been conclusively proven to be directly linked with weight loss effects by large and reputable medical studies that have been replicated.
Though this doesn't mean that the product won't work, it does mean that science has yet to determine exactly what effect is produced within the body through its use. Moreover, it also means that even if these ingredients are effective, there is no way to know exactly how much should be used for the ideal benefits without leading to side effects. Moreover, the side effects and toxicity levels are also unknown for most of those substances.
There are a couple of ingredients that are quite commonplace in the weight loss supplements industry as well. Those are garcinia cambogia and cayenne pepper. Guarana is also a popular addition due to the high levels of stimulants it contains.
Garcinia cambogia's main claim to fame was its mention by Dr. Oz on his popular television show. However, despite the fact that this television personality has since been in a lot of hot water after having faced a senate committee for making unproven claims about supplements, garcinia cambogia remains a popular ingredient.
Cayenne pepper contains capsaicin, which is a known thermogenic. This ingredient is often used to attempt to improve the body's ability to burn stored body fat without having to use stimulants.