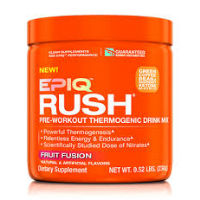 Epiq Rush is a nonprescription weight loss supplement that is meant to be used before beginning a workout. The reason is that it has been designed to start working at the start of a workout, providing an energy boost that will last until the session is over. In this way, dieters can push harder throughout their exercises and achieve better performances. The better they perform, the more calories and fats they will burn.
At the same time, Epic Rush is also meant to stimulate themogenesis. This means that the body temperature is raised and the body will burn more fats and calories in order to fuel that heat. So not only will a dieter be able to put more into a workout, but every activity will also result in higher calorie burning than would be the case if the dieter was exercising unassisted.
This product is a powder that needs to be mixed into a beverage. This makes it appealing to certain dieters who would prefer not to have to swallow a capsule or a tablet. Many people struggle to swallow pills or would rather drink their supplements as a beverage for other reasons.
To use Epiq Rush according to its directions, a set schedule must be followed. For the first two days of using the product, one scoop is added to 8 ounces of water. It's mixed and consumed before a workout. On the third day and every day after that, two scoops of the powder are added to 8 ounces of water before the workout.
That said, the directions caution that if side effects are experienced from consuming such a high number of stimulants, the user should drop back to using one scoop per day for another two days. After that point, they can test to see if they can tolerate the two scoops. Many people require a few extra days in order to build a resistance to the side effects from the stimulants.
Epiq Rush comes in a single flavor option called Fruit Fusion flavor. It is meant to taste nice in order to make it easier to comfortably consume this product. The ingredients within this product are: Peak Performance Blend (citruline nitrate, taurine, L-aspartic acid and cordyceps sinensis extract), EPIQ Rush Blend (green tea, raspberry ketones and green coffee extract) and the Energy Boosting Blend (caffeine anhydrous, L-theanine, coconut water powder, alpha glyceryl phosphoryl choline (A-GPC)).