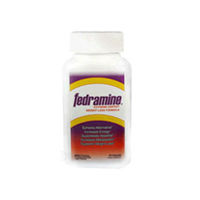 Fedramine is an over the counter diet supplement developed and sold by an American company called Internet Marketing Solutions Group, LLC (IMSG). It claims that this pill provides the weight loss advantages of ephedra – without the use of that banned ingredient – as an alternative to prescription diet drugs.
The official website is extremely low in information and has been reduced over time as many of the types of claims made by this product's manufacturer are not backed by any scientific evidence. Though it promises to mimic prescription phentermine's effects, it does not even bother to use its official website to back up that promise with any cited studies published in peer-reviewed medical journals.
Nearly all the information provided on the official website discusses the security of ordering from their website and the speed by which the product ships.
Once a customer clicks to purchase a certain number of bottles, the ingredients within the formula are revealed. It is unclear whether the ingredients identified on the website represents a complete list of the substances making up the Fedramine capsules or if it is only a featured list. Either way, nothing is backed up by scientific study.
These red and purple capsules are supposed to work by providing the user with "energy and weight loss" as an "ephedra alternative."
The ingredients listed in this product formula include: citrus aurantium, metabromine, green tea, chromium, white willow bark, and guarana.
Anyone experienced with the ingredients in diet pills should see a red flag right away when they see the combination of citrus aurantium and guarana and should be cautious of the addition of white willow bark.
Citrus aurantium contains synephrine, a powerful stimulant. Guarana contains caffeine, another stimulant. The F.D.A has issued a warning to diet pill users to avoid products combining synephrine and caffeine because of the potentially harmful side effects they can cause relating to the heart.
White willow bark is a natural form of aspirin. It is not safe for all users and many people should not use this ingredient as regularly as this product's directions recommend.
It is highly recommended that if you are considering the use of Fedramine, you first speak with your doctor as it is not safe or appropriate for all dieters. Care should be taken to avoid unwanted reactions or conflicts with medications, other supplements or with certain common medical conditions such as (but not limited to) diabetes, pregnancy, or breastfeeding a baby.