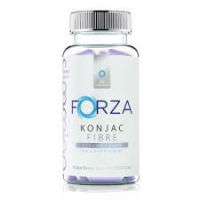 Forza Konjac Fibre is a nonprescription weight loss supplement that was designed to help dieters to achieve a fuller feeling which will make it easier to be able to reduce the number of calories that are eaten every day, which is one of the major steps in many dieting strategies.
According to Forza, the manufacturer of this product, it contains glucomannan, which it calls a clinically proven ingredient. Although that substance does not have FDA approval for being used as a weight loss pill (as it is not required because it is in a supplement that does not require approval), it has managed to obtain approval for weight loss health claims from the European Food Standards Authority. In fact, at the time of the writing of this review, glucomannan (otherwise known as konjac fiber) was the only food substance that has received that approval from the European Food Standards Authority.
The way this ingredient is supposed to work is that it is taken in the form of a pill, such as Forza Konjac Fibre, and swallowed with a large amount of water. The substance, itself, is an insoluble fiber, which absorbs several times its weight in water. This causes it to swell up and form a gel-like lump within the stomach, taking up enough room that it is supposed to shrink the appetite of the user. Because the user's stomach then feels more full, he or she will be less inclined to eat more food, meaning that it may be easier to reduce the number of daily calories that are consumed, assuming that the dieter makes the right food choices when he or she does eat.
This ingredient can also slow the rate at which the stomach empties itself, which means that its effect can last for longer than that of many foods. This could potentially reduce the risk of overeating between meals, as well.
That said, it is very important to drink a large enough amount of water when taking Forza Konjac Fibre, or the glucomannan won't have the opportunity to adequately expand. Moreover, unless the dieter follows a calorie restricted diet, a reduced appetite will not necessarily translate into lost weight.
There are only two active ingredients within this product. They are: glucomannan (konjac root, 1,000 mg) and zinc (2 mg). The directions on the package recommend that 6 capsules be taken each day, divided into three doses of 2 capsules, each. One dose should be taken a half hour before each meal.