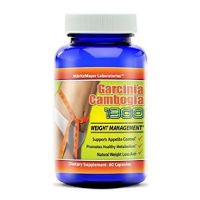 Garcinia Cambogia 1300 is an over the counter diet supplement for people who are attempting to lose weight. It is manufactured and sold by a company called MäritzMayer. That company claims that these pills will help dieters to be able to experience an improvement to their metabolisms and energy levels. It may also help to suppress the appetite, which may make it easier for dieters to lose weight.
As the name of this product would suggest, garcinia cambogia is among the ingredients that makeup this formula. That said, while it is not the only ingredient, it has been included in many different forms. At the time of the writing of this review, the formula was made of: Potassium, Calcium, Chromium, and the Proprietary Garcinia Cambogia (Fruit Rind) Formula. The Proprietary Garcinia Cambogia (fruit rind) Formula was composed of: Garcinia Cambogia Extract (4:1), Garcinia Cambogia (60% Hydroxycitric Acid (HCA)).
While garcinia cambogia hadn't been very popular in North American or Western medicine as a whole, it started to poke its way into that industry several years ago. It really took off after Dr. Oz mentioned it on his daytime television show, praising it as a type of miracle substance. Unfortunately, this led many people to believe that it had been researched and studied far more than it actually had. In fact, the research that has been conducted on this ingredient remains somewhat limited.
While that doesn't mean that garcinia cambogia won't work, it does mean that science and medicine simply haven't proven that yet. This remains an important process that many people underestimate. Indeed, it is possible for an ingredient to be highly effective regardless of whether or not it has been studied. However, research is what tells us how much is needed in order to be effective, how much starts to cause side effects and other problems, and whether this ingredient conflicts with certain medical conditions, prescription drugs or supplements.
It should also be noted that garcinia cambogia isn't the only ingredient in the formula and the others haven't necessarily been proven to be effective, either. In fact, where chromium is concerned, the Mayo Clinic has stated that there simply hasn't been enough evidence to suggest that there is any reason to take it for weight loss.
Equally, when taken according to the directions, it is unlikely that Garcinia Cambogia 1300 would place a healthy adult dieter in harm's way. Regardless of whether or not it works, it is unlikely to be problematic.