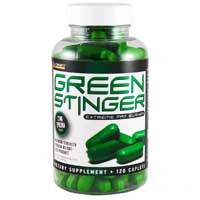 Green Stinger is an over the counter weight loss supplement manufactured by Schwartz Pharmaceuticals. That manufacturing company is based in the United States and markets the product as a form of powerful fat burner. In fact, its description describes it as providing "extreme" effects.
While it isn't at all uncommon for marketers to call a diet pill "extreme," in this case, the term is more than justified. When compared to many other products on the weight loss market, it is clear by the list of ingredients that dieters will definitely feel something when using this product. However, whether or not it is something they want to experience would be up to the individual.
This product's ingredients not only list 27 milligrams of ephedra, but also synephrine and at least five caffeine-containing ingredients. Even if the product didn't contain a single other substance, this would definitely make it extreme in both the stimulant and the legal sense.
Before discussing what this product can and cannot do for dieters, it is extremely important to point out that it is illegal to manufacture, sell or purchase diet pills containing ephedra, ephedrine or ephedra extracts in the United States and a long list of other countries around the world. As ephedra extract is the top ingredient in the ingredients list and it is the main substance in the product's marketing claims, this is quite problematic.
If the formula does indeed reflect what is listed on its label, this product is illegal to sell in the U.S. and is also illegal for consumers to purchase. There is a reason for this: back when ephedra was still legal in diet supplements, it caused thousands of dieters to experience side effects – many of them quite severe – and it was linked with the death of several people, including a celebrity athlete.
At the time this review was written, the Green Stinger ingredients included: ephedra extract, citrus aurantium, synephrine extract, yohimatrix (two versions of yohimbine HCl), phenylethylamine HCl, acacia rigidula, Theobroma CoCoa, green tea extract, naringen, pure white willow bark extract, evodiamine and TriENRG (kola nut, guarana extract and yerba mate).
It would be very difficult to find a reason to recommend this product, considering the fact that it is illegal and it could potentially place the user's health and life at risk. Anyone considering the use of Green Stinger should first speak with a licensed doctor as it is very likely that there is a much more safer and legal alternative opportunity.