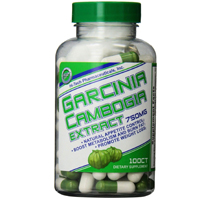 Hi-Tech Pharma Garcinia Cambogia is one of dozens, if not hundreds of products in the nonprescription weight loss supplements space that uses garcinia cambogia. Ever since that substance was praised by Dr. Oz, despite the fact that there was little to no scientific evidence to support its use at that time, companies have scrambled to jump on board with the hype. This brand happened to have had its product on the market well before that time, having first launched a supplement using garcinia cambogia back in 1997.
That said, it's important to note that just because a product's ingredients aren't scientifically proven, it doesn't mean that they won't work. Therefore, for the purposes of this review, the benefit of the doubt will be given and each component of the formulation will be examined individually.
To start, since Dr. Oz's initial statement regarding garcinia cambogia – one he has since called a mistake after having faced a federal Senate committee regarding making unsubstantiated medical recommendations – some promising preliminary evidence has arisen. This doesn't mean that this ingredient is proven to produce weight loss, by any means, but it does mean that it is worthy of further study and that we should be seeing additional research over coming years to help determine whether or not it is worthwhile and safe, for that matter.
That said while, Hi-Tech Pharma Garcinia Cambogia also contains only this ingredient, it is not in its original form. It is in the form of a trademarked substance called Citrin K. This is an extract standardized to contain 50 percent to 60 percent hydrocycitric acid. That compound has been studied more than the ingredient as a whole and has been examined since the 1970s. Still, while that evidence is, again, quite promising, this is still not considered to be a proven substance by the medical community.
According to the official website for Hi-Tech Pharma Garcinia Cambogia, each daily dose contains 3,000 milligrams of the ingredient. It states that this is "the exact amount recommended," but does not say who has made the recommendation, for what purpose, or in precisely what situation that recommendation was made.
Although this does not mean that Hi-Tech Pharma Garcinia Cambogia won't work, it does mean that the company behind it is suggesting that there is more powerful evidence to support its use than is actually there. Moreover, it is not yet fully known how much of this ingredient can be safely used on a regular basis, how long it can be used, or whether it conflicts with certain medications and/or medical conditions.