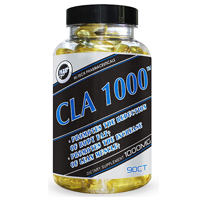 Hi-Tech Pharmaceuticals CLA-1000 is a nonprescription weight loss aid based on a fatty acid. This product is designed to be used both to assist in weight management and to support lean muscle mass. It can also be used in the promotion of overall wellness.
This type of supplement is used to help both dieters and bodybuilders. It is meant to make it easier for them to get the results they want from their efforts in eating right and exercising regularly. This particular product is based on conjugated linoleic acid (CLA).
According to the official website for this product, research has shown that this substance counteracts catabolism through the reduction of its negative effects either following a workout or when a user has not consumed enough calories. It claims that other studies have shown that it helps to boost protein accumulation, provided adequate protein is actually consumed through the diet.
Unfortunately, the manufacturer didn't go so far as to actually cite any studies that would support this claim. Still, a quick search through medical journal databases does reveal that this ingredient has been researched in both weight management and bodybuilding and fitness categories.
While an initial glance at this product makes it look like virtually any other CLA supplement, of which there are dozens upon dozens on the market, the website insists that Hi-Tech Pharmaceuticals CLA-1000 is exceptional and stands out from the rest. It claims that each capsule has been measured for the precise fatty acid ratio a user's body needs for the support of a muscular and lean body composition. It does not explain exactly how the knowledge of this ratio was achieved or how it has done this differently from the pills that contain exactly the same amount of the ingredient.
The conjugated linoleic acid within the Hi-Tech Pharmaceuticals CLA-1000 capsules is obtained from safflower oil. This ingredient is a common source of CLA in the over the counter weight supplement industry.
While it isn't entirely clear how this differs from many other CLA dietary supplements, this ingredient may be helpful to dieters and bodybuilders. It has a growing body of research to support its use. Though many people like to take this ingredient on its own, others prefer to take it as a part of a more complete formula. Speak with a doctor before taking this or any other supplement meant for weight loss to be sure they are safe and appropriate for you.