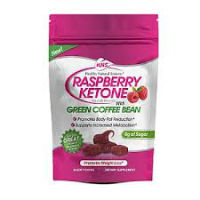 HNS Raspberry Ketone with Green Coffee Bean is an over the counter weight loss product that is made, primarily, out of two ingredients that have seen a great deal of hype and that are very commonplace in this industry. This supplement, unlike the majority of those currently available, comes in the form of a chew. This may be seen as quite appealing to people who struggle to be able to swallow tablets and capsules.
This product is made and manufactured by a company called Healthy Natural Systems. This is a company that has quite a few different supplements available, among which several are within the weight loss category. In the case of this specific product, it promises a reduction in body fat while it supports an increase in the metabolic rate.
To do this, it is made of a formula that is listed on the official product page as containing the following ingredients: Maltitol Syrup, Palm Oil, Gum Arabic, Natural Beet Juice Color, Raspberry Ketone, Green Coffee Bean Extract, Natural Flavor, Citric Acid, Mono and Diglycerides, Soy Lecithin (An Emulsifier), Sea Salt, Chromium Polynicotinate. Among those, only the Raspberry Ketone and Green Coffee Bean Extract are active. The rest of those substances simply make up the color, flavor and texture of the chew.
While this may seem very attractive to many people who have been swept up by the hype behind those two active ingredients, the fact is that neither of the active substances in HNS Raspberry Ketone with Green Coffee Bean have been scientifically proven to be directly linked to weight loss. In fact, in the case of green coffee bean, there is only one major study in favor of its use and that research has been greatly questioned in terms of the reliability of its methods. Moreover, there are a number of studies that indicate that taking green coffee bean for weight loss may actually be more harmful than beneficial.
Of course, a lack of evidence in support of an ingredient doesn't necessarily mean that it won't work. These ingredients might be quite helpful to dieters. However, without the right study, it's impossible to know how much is needed in order to generate the desired results and it's not known whether or not the substances come with other drawbacks such as side effects, drug interactions, problems with certain medical conditions, or even addiction and associated symptoms of withdrawal.