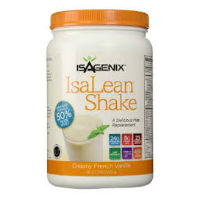 Isagenix Isalean is an over the counter supplement product sold in the form of a shake. It comes in several flavors and is meant to replace a regular meal made of whole foods. This is one of hundreds of products within the meal replacement category.
Each Isagenix Isalean Shake canister provides the user with 14 meals. The canisters are priced differently depending on the flavor chosen. Each meal consists of 240 calories and is meant to provide a balance of nutrition. At the same time, this product has been designed to be used to support healthy weight loss as well as lean muscle growth.
The reason is that each of these meals also contains 24 grams of protein in addition to 23 vitamins and minerals. It contains some carbs and fats as well, active enzymes and high fiber.
The flavors that are available year round include Strawberry Cream, French Vanilla and Creamy Dutch Chocolate. That said, during the holiday season, they also release a limited edition Eggnog flavored version.
According to the official page for this product on the manufacturer's website, the key to this product is in the Myo-IsaLean Complex that it contains. That substance is actually a dairy whey protein. The cows from which that ingredient is sourced have not been treated with routine antibiotics and do not receive hormones.
Also included in the ingredients for this product is Ionic Alfalfa™ which is a proprietary version of a simple alfalfa juice.
Beyond being a meal replacement product, it also claims to support health and weight loss by supporting "nutritional cleansing." The official website says this occurs due to the presence of essential and non-essential amino acids within the formula in addition to the quality of the protein.
It's important to note that meal replacement products are a controversial style of dieting. They are notorious for being nutritionally incomplete. At the same time, they don't provide the dieter with the tools or habits required to continue losing weight and then maintaining that lost weight over the long term. This is not a sustainable type of dieting and can therefore lead to yo-yoing weight, which can be more dangerous for people than staying overweight in the first place.
To use this product, the directions say to simply add a scoop of the mix to water and enjoy as it is. However, for added nutrition or energy, it can also be mixed with some of the brand's other products or fresh fruit.