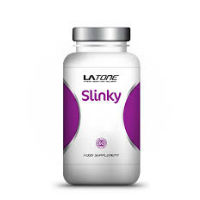 LA Muscle Slinky is a supplement that is available without a prescription and that has been designed specifically with women in mind. It is a weight loss pill that is made and manufactured by the large fitness, dieting, and bodybuilding product company called LA Muscle. That business has a solid reputation and offers a broad spectrum of different types of product in those categories. However, this doesn't guarantee that this specific supplement will work for every woman who wants to lose weight, so it's a good idea to take a closer look at what these pills have to offer, to decide whether or not they are appropriate for your specific needs and weight loss expectations.
The LA Muscle Slinky supplement has actually been around for quite some time, but over the last year, or so, its marketing took a different direction in the hopes of generating a greater appeal to its target market. Initially, its packaging and marketing pages were themed in a stereotypical bright pink. Since then, though, it has been changed to a white and purple design that implies that the product remains very feminine, but that it takes fitness and health more seriously.
The description of this product has also changed over time. While it used to directly claim to be able to help a woman to burn more fat, while shrinking her appetite and increasing her metabolism, its claims are now far more indirect. In fact, the main description just says that it is helpful in allowing a user to achieve her goals, though it does not even specify what those goals are.
In its broader description, it identifies choline and chromium among its top ingredients and says that choline "contributes to normal lipid metabolism" while it helps in macronutrient metabolism maintenance. It adds that chromium is known to promote normal blood glucose levels. However, it doesn't make any claims as to what they will actually do for a dieter or what results can be expected. The rest of the description talks, primarily about the importance of a healthy diet and fitness routine, and not about the product, itself.
This, combined with the fact that neither of the choline and chromium ingredients in the formula, or the others that it contains – inositol, betan, methionine, L carnitine, and chitosan – are proven to be directly linked with weight loss by any major reputable medical studies doesn't say too much for this product. That said, the reviews that have been left by customers have been very positive ones, so perhaps science has yet to catch up with what this formula has to offer. It is too early to tell.