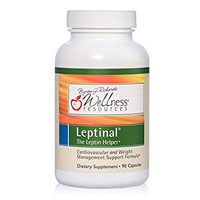 Leptinal is a nonprescription diet supplement that is marketed as a product that will provide dieters with additional support in managing their weight in addition to several other health advantages. The official website for this product points to a slew of wellness claims regarding the use of this weight loss pill, including supporting bone and nerve health as well as healthy blood pressure and cholesterol levels.
This is quite the broad claim for a single pill and it takes quite a few steps over and above the average effective diet pill currently being sold in today's marketplace. That said, while claims are one thing, actually living up to them are something entirely different. The official website for this product states that it will provide users with the promised benefits by way of "high quality nutrients." Those substances will create "healthy leptin hormone communication." That said, it underscores the fact that the formula for Leptinal contains neither stimulants nor hormones.
Leptinal is sold in the form of a softgel capsule. Although it's clear that the manufacturer claims it can provide a long list of benefits, the primary function of this product is in controlling the function of leptin. Leptin is a naturally occurring hormone within the human body. It is secreted by white adipose tissue cells.
From there, the leptin enters the bloodstream and is transported to the brain. The Leptinal website claims that the next step in leptin's function is to provide metabolic signaling. This impacts energy production, thyroid function, liver function, bone formation, pancreatic function and cholesterol synthesis.
These functions all have a direct impact on a person's weight. The more efficiently a person's metabolism is running, the better able it is to lose weight. The Leptinal website says that an efficient metabolism has established a "flow of leptin-dominant communication" among the adipose tissue, brain, liver and pancreas.
However, it also stated that when adipose tissue is not fit, it issues "stressful metabolic signals." As a result, the body's natural weight management is less efficient. That said, the website does not explain exactly how that works or why. Instead, it attempts to sell a book called "The Leptin Diet" to provide that information.
At the time of the writing of this review, the Leptinal formula contained: marine lipid oil, borage oil, pomegranate fruit extract, Sytrinol (which is a proprietary blend that contains polymethoxylated flavones and palm-derived tocotrienols) and tocotrienols.
Neither the website nor any peer reviewed research studies that could be found at the time of this review gave any significant evidence that the ingredients in this product would directly affect weight loss.