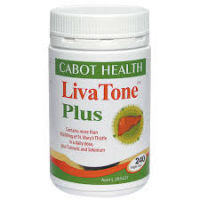 LivaTone Plus is a nonprescription weight loss capsule marketed to men and women who want to lose weight more quickly. It is a product created by Dr. Sandra Cabot and is primarily focused on liver and gallbladder health and function.
The core ingredient in LivaTone Plus is silimarin, which is an ingredient extracted from St. Mary's thistle. There is 420 mg of this substance in every dose. While the website claims that this substance has been shown to be effective in clinical trials at this dose, it did not go on to say what it was effective for, nor did it cite any trials. This is unfortunate, because if the ingredient truly has been shown to be beneficial for weight loss, there is no way for the consumer to check into it conveniently. This leaves the dieter to have to do their own research or blindly believe a company that is trying to sell a product.
The main ingredient is combined with a number of other vitamins and minerals, such as the complete vitamin B group, as well as vitamins C and E, in addition to selenium. It also taurine, which is believed to play a role in the function of the gallbladder and the liver.
The primary function of this diet pill is aimed at those two organs. The liver and the gallbladder are central to the elimination of toxins by the body. It could be that the product is meant to be a detox or cleanse product without being strictly labeled as such.
That said, none of those ingredients have ever been proven to have a direct link to significant, measurable fat loss in reputable published studies. As a result, it is difficult to understand why the product is being sold as a fat burner. Indeed, the liver is a part of the digestive process and it does help in the processing of fat, but that involves dietary fat, not fat stored on the body, which are two entirely different things.
Moreover, the website for LivatTone Plus points out that a healthy liver is critical to proper thyroid function. The thyroid is essential to the efficiency of the metabolism. While this is true, the only time in which that would actually make a difference to a dieter is if their thyroid function was actually compromised for some reason. If that is the case, it is important to consult a doctor about treating the thyroid. Self-medicating with a diet pill is not recommended.