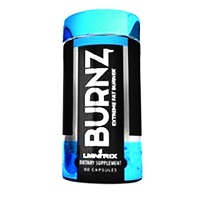 Lmnitrix BURNZ is a non-prescription weight loss pill marketed as a fat burner that will help its users to drop the pounds. In fact, it doesn't just call itself any old fat burner. On the brand's official page for the project, it is called an "extreme fat burner" and promises "100% guaranteed results."
Clearly, the manufacturer of this product is not subtle about the claims it makes. In fact, the official site also goes as far as saying that Lmnitrix BURNZ is "the best thermogenic fat burner", stating that users will "see and feel the results – guaranteed." With this type of hyped description, it's very easy to want to whip out your credit card and make a purchase right away. However, as with any supplement you've never tried before, it's a much better idea to take a closer look, first.
In fact, even though this is a non-prescription product, it doesn't hurt to talk to your doctor about your intention to use it. The reason is that even if it is a good and reputable product and you feel you've examined the ingredients thoroughly, your doctor can tell you if it is a good and safe match for your unique weight loss needs. He or she can also caution you regarding any conflicts it could cause with medical conditions you have or medications you're taking.
This is especially important with a product like Lmnitrix BURNZ, as it contains a number of stimulant ingredients. Stimulants are not appropriate for everyone. While many are safe for healthy adults, this cannot be said about all stimulants. Moreover, stimulants aren't recommended for people with certain medical conditions and can cause unwanted side effects among people with certain sensitivities.
The stimulants in Lmnitrix BURNZ include caffeine anhydrous and hordenine. There is about 250 milligrams of caffeine, which is the equivalent caffeine content to about two and a half cups of coffee. It also contains 60 milligrams of the hordenine. For many people, taking in that much caffeine all at once causes anxiety, jitters, sleep struggles, headache, a rapid heartbeat and range of other side effects.
It's also worth noting that this product contains Higenamine HC. Which is not a stimulant but that works in the body to relax some tissues and contract others. When it comes to the heart, the effect is usually a contraction, which means that it can cause the heart rate to speed up. While this may promote faster fat burning, it may also conflict with certain health conditions and may not be safe to combine with certain common prescription or over the counter medications or supplements. This may also not be safe with certain foods.
At the time this review was written, the formula for Lmnitrix BURNZ contained the following ingredients: caffeine anhydrous, choline bitartrate, L-carnitine tartrate, hordenine, Capsimax (cayenne pepper extract), dendrobium, higenamine HCl, huperzine A.