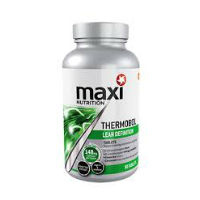 Maximuscle Thermobol is a nonprescription supplement product that is marketed toward people who are trying to reduce their body fat. This can include regular dieters as well as bodybuilders who are attempting to remove more of the layer of fat that is covering up the sculpted appearance of their muscles. The benefits that are supposed to come with the use of this product include increased energy, alertness and mental focus, as well as fat burning and enhanced metabolism support.
This product is meant to be used by people who will be consuming a proper healthful and nutritious diet as well as people who intend to be physically active every day. It is not appropriate for use by people who plan to be sedentary throughout its use. For people who are using it with the intention of building muscle and reducing fat, it may help to enhance the definition of that muscle.
To better understand whether or not the Maximuscle Thermobol formulation contains the right ingredients in order to actually produce those effects, it's a good idea to look into each of the substances found in these pills in order to understand their effects. At the time of the writing of this review, the official webpage for this product listed the ingredients as: Bitter Orange Peel (citrus aurantium), Vitamin B12, L-Tyrosine, D-Biotin, Caffeine, Chromium, Green Tea Extract (90% polyphenols), Capsaicin Extract from Hot Cayenne Pepper, Guarana Seed, Vitamin B5, Bioperine (black pepper extract), Vitamin B1.
It's clear that this formula is based quite heavily on stimulants, which means that many people will experience side effects as a result of its use. The other issue that should be addressed is that it not only contains bitter orange peel (which contains syneprhine), but it also contains guarana seed, which is a strong source of caffeine. Caffeine and synephrine have been known to produce dangerous side effects in certain people, and it is a combination identified by the FDA as one that increases the risk of heart attack and stroke.
Before taking this product, it is highly recommended that dieters and bodybuilders speak with a doctor. That is the best way to know whether or not your health could be placed in danger by taking these pills. If you do take these pills, it is very important to follow the directions very carefully, as overusing them could also put the dieter at an increased risk of side effects and other unwanted reactions.