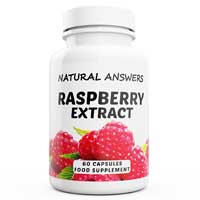 Natural Answers Raspberry Extract is a weight loss supplement sold primarily as a an appetite suppressant to help dieters to reach their goals with greater speed and ease. This product is manufactured in the United Kingdom, where it is sold.
Aside from its primary benefit as an appetite suppressant, the official webpage for this product also claims that it helps to support normal thyroid function as well as the normal production of thyroid hormones.
At the time this review was written, the Natural Answers Raspberry Extract ingredients were: Green Tea Extract 40%, Caffeine Anhydrous, Apple Cider Vinegar, Kelp Powder, Raspberry Leaf Extract 10:1, Grapefruit Powder. It also contained the non-active ingredients: Microcrystalline Cellulose (Bulking Agent), Capsule Shell: Gelatin, Magnesium Stearate lubricant), Silicon Dioxide (Anti-Caking Agent). As the capsule shell is made out of gelatin, it is important to note that this product is not suitable for vegans or some vegetarians.
To take this product, the package directions recommend swallowing two capsules per day before eating. As each bottle contains 60 capsules, it means that one bottle will provide a one month supply.
While the official webpage for Natural Answers Raspberry Extract carefully outlines a full range of different ways in which the ingredients in its formulation are meant to be helpful to dieters, at no point does it cite any published and peer-reviewed research that would support any of those claims. While this doesn't mean that the claims are false – they may very well be true – it does force the consumer to have to blindly believe what the manufacturer says about the product it is selling.
In such a crowded market where deception has become commonplace, it is never advisable for a dieter to just assume that a company is being truthful about its claims. Therefore, a dieter is required to have to do his or her own research into this product's ingredients list in order to obtain a clearer picture of what it can provide in terms of weight loss support.
The first thing that a dieter might notice is that while the product is called Natural Answers Raspberry Extract, that's far from all it is. It contains many other ingredients and raspberry leaf extract is actually the second last ingredient among them. It is much more likely that any effects felt by someone taking this product will come from the caffeine anhydrous – a stimulant – and possibly from the green tea extract, depending on the amount these capsules contain of that ingredient.