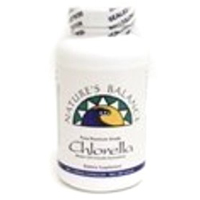 Nature's Balance Chlorella is a nonprescription capsule that contains "pure professional grade chlorella pyrenoidosa." This substance has become a very hot ingredient in the health and wellness industry and has been making its way into the weight loss category as well.
There are many claims currently being made about chlorella supplements at the moment. While the vast majority of them are not proven, this doesn't necessarily means that they're not true. That said, it doesn't mean that they're true, either. It's important to note that just because a claim is made about a certain ingredient, it doesn't mean that there is any trustworthy research out there to support it.
At the moment, what is known about chlorella is that it is a type of algae that is high in certain nutrients such as beta-carotene, vitamin B12, chlorophyll, and several others. In fact, there are over 20 vitamins and minerals in this substance in quantities that actually matter. This includes phosphorus, calcium, magnesium, potassium, iron, vitamins B1, B2, B5, B6 and B12 as well as pro-vitamin A, inositol, biotin, vitamin C, E, and K, and folic acid.
Clearly, this has the potential to be considered quite a nutritious type of food. Still, as nutritious as it is, this doesn't mean that it will produce any weight loss results at all. A search through a medical journal database at the time of the writing of this review did not produce any results that would indicate that a direct relationship has been proven between chlorella supplements and weight loss.
That said, if this is taken as a part of a healthy, portion controlled and calorie reduced diet and in conjunction with regular exercise, it is likely that fat will be lost. It should be pointed out that those results will likely not have anything to do with the chlorella supplements but will be the outcome of the healthy lifestyle habits.
Still, taking this supplement has the potential to enhance the nutrition that a consumer receives every day as they alter their habits to live more healthfully.
It is recommended that consumers considering this use of this product should first consult with their doctors. This can help to make certain that it will be safe and appropriate for their health and nutritional needs. It will also help to make certain that it will not produce a conflict with any drugs, medical conditions or other supplements being taken.