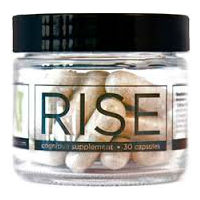 Nootrobox Rise is one among a large number of diet products that are based on providing a dieter with more energy. The company sells several different nootropic supplements and, in this case, it is designed to help a user to be able to work out more effectively, harder and longer because they have put fatigue behind them.
The promise made on the official website is that this product is effective in helping its users to be able to boost stamina, memory and resilience. The concept behind this type of pill is that they will be able to help a dieter to better perform throughout each workout, it will provide them with the energy to actually take on the workouts in the first place – even after a busy day – and will help to keep up the motivation to maintain the remainder of the diet program until the goal weight is achieved.
Nootrobox Rise is manufactured by a company based in San Francisco, California. That company produces several different kinds of supplements that can be used independently of each other or that can be stacked together in order to provide the user with a broader range of different benefits.
Each of the products sold by Nootrobox, including Rise, is deemed FDA GRAS (generally regarded as safe) and/or is considered to be an appropriate dietary supplement compound by the U.S. Food and Drug Administration. Moreover, it is important to note that none of the ingredients within this or any of the other products from this brand are banned from the guidelines of major athletic organizations. This means that they can be used by anyone from competitive or professional athletes to soldiers and other individuals who are required to pass drug tests.
At the time of the writing of this review, the ingredients were listed on the official website as being: . From this list, it's clear that the product has undergone a change in its formulation as many of the reviews that have been shared from customers who have tried it have included additional substances such as L-theanine and caffeine. That said, the product is now entirely free of those two substances.
Every bottle of Nootrobox Rise contains 60 capsules. As the directions recommend two capsules per day, it means that one bottle will last for thirty days. There are two different ways in which a user can take these pills. The first is to take one with breakfast and the next one after lunch or with a snack in the afternoon. The second method is to take both pills at the same time, with a meal that contains fat, such as meat, dairy or nuts.