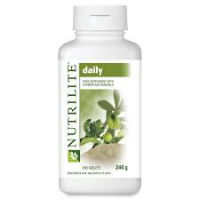 Nutrilite Daily is a nonprescription weight loss supplement that is manufactured by a company called Nutrilite while being sold by the infamous Amway. Amway is a multi level marketing company that has a rocky history in terms of its reputation and business practices in the past. The formula is meant to be used by dieters who are seeing additional benefits that will help them to be able to lose weight faster.
Every bottle of Nutrilite Daily contains 180 tablets. They have been designed to contain minerals and vitamins that will help to fill in the nutritional gaps in an average person's daily diet. Each pill is meant to provide at least 100 percent of the daily recommended value of 8 essential minerals and 12 essential vitamins.
The formula is certified as being gluten free and is made of "exclusive plant concentrates." These include ingredients such as watercress, alfalfa, acerola cherries and parsley. The pills are also made with their proprietary coating that is meant to make each pill easier to swallow. That may be an important feature for people who struggle to be able to swallow pills whole.
At the moment, each bottle is sold for $30.10, which means each pill costs only $0.17. That figure seems even more impressive when you consider that only one pill needs to be taken per day. Therefore, this product will last for around 6 months.
Despite the fact that it is listed as a diet pill there are no specific claims made with regards to weight loss benefits. Instead, such benefits are to be obtained indirectly by keeping up a healthful lifestyle and supplementing any missing nutrients with this product.
When it all comes down to it, the formula looks more as though it is meant to be a nutrition supplement made of food based ingredients – a kind of multivitamin alternative – as opposed to functioning as a diet pill that includes specific weight loss features such as appetite suppressants, fat burners or fat blockers.
For people who are simply trying to take on a more healthful lifestyle and who include weight loss as a part of this broader effort, it may be worthwhile to speak with a doctor about whether or not Nutrilite Daily may be appropriate. That said, it is important not to begin taking these supplements before speaking with a doctor as it may not include the proper nutritional balance for your unique needs.