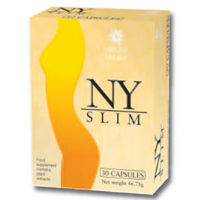 NY Slim is a nonprescription weight loss supplement that is designed to function as an appetite suppressant. It is manufactured by a company that gears its marketing toward consumers in the United Kingdom and that has an address on a small island in the English Channel called Guernsey. According to the official website for this product, it has also already achieved the notable goal of having over 870,000 satisfied customer.
At the time that this review was written, the website availability for this product was patchy. While certain pages were available at sometimes, that availability was intermittent. Therefore, the information used to write this review was gleaned both from the official website and from third party seller websites.
The official website calls this product both an appetite suppressant and a fat blocker. Those could potentially be two very powerful tools to help dieters to be able to lose weight, assuming that the product actually lives up to its claims.
The main promise on the official website as well as on many third party sites that sell this product is that it will help people to be able to shed 1 stone (14 pounds) for every month that this product is taken, even without any additional dieting efforts. Furthermore, it says that this is accomplished without any side effects and through a formula that is made up of all natural ingredients. Right away, this kind of promise should place a dieter on alert, as this may be a common type of claim, but it is one that has yet to be scientifically proven by any diet pill or ingredient, prescription or nonprescription.
Though an effort was made to check to see if this product was indeed made up of only all natural ingredients, the official website did not reveal the contents of the formula when it was checked. If the ingredients list was present on the official website, it was not on a page that was functioning at the time that this review was written. All that could be found was a claim that said that its all natural ingredients were the "finest of ingredients and its clinically proven to work," which doesn't exactly say much.
It is a very good idea to speak with a doctor before purchasing or using NY Slim, as any reputable diet pill would recommend its use in combination with a healthful weight loss friendly eating program, as well as a regular exercise regimen.