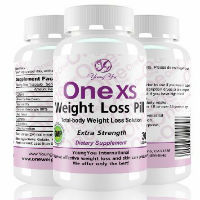 One XS Weight Loss Pills are advertised as being diet supplements that can help dieters to be able to achieve fat loss in a way that will be safe and permanent. At the time of the writing of this review, the official manufacturer's website contained a sales page for this product, which is where the information for this article was obtained, in addition to the claims made on sites where the product is sold, such as Amazon.
Among the advantages of using One XS Weight Loss Pills is the fact that only one must be taken every day in order to take advantage of the claimed benefits. As many supplements require multiple pills to be taken several times per day, this can be a considerable advantage for people who struggle to keep up with a pill schedule.
According to the marketing for One XS Weight Loss Pills, there are ingredients within this formula that are considered to be proven. There are before and after pictures that show people who have gained a considerable amount of weight, though the sites don't outline what efforts those individuals made on top of taking the pills.
At the time of the writing of this review, the ingredients listed on the product package were: caffeine, green coffee bean, yohimbe, garcinia cambogia, aloe ferox, guarana, L-carnitine and citrus aurantium. After reading that list of ingredients, anyone who is familiar with the ingredients commonly used within this industry would likely see a number of red flags popping up rather quickly.
To start, it is clear that the majority of these substances are stimulants. They include caffeine and ingredients that contain caffeine, as well as the synephrine in citrus aurantium. Not only can that be problematic to many dieters as it is very common to experience side effects from taking large amounts of stimulants, but the combination of caffeine and synephrine is also troubling, as the FDA has cautioned against the use of those substances together. The FDA has warned dieters that studies show that the combined use of caffeine and synephrine increases the risk of heart attack and stroke.
This and the fact that the official webpage for the product on the Young You website claims that the average user loses from 20 to 25 pounds every month on this pill makes it very difficult to believe any of the claims that are made as they are clearly exaggerated and are not supported by any cited reputable scientific study.