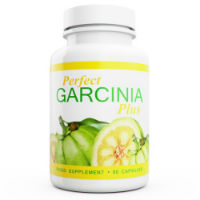 Perfect Garcinia Plus Capsules are a nonprescription weight loss supplement based on the popular garcinia cambogia fruit extract ingredient. This product comes in bottles of 60 capsules, providing users with a one month supply per package. Let's take a closer look to see if this product fits in the best weight loss tablets or capsules category.
According to the official Natural Answers website, the company behind the product, these pills are designed to help a dieter to be able to achieve better weight control when used along with a balanced diet and regular exercise. This product is manufactured in the United Kingdom, the primary market for these pills.
Each Perfect Garcinia Plus Capsule contains 400 milligrams of its main ingredient. This substance is an extract of the fruit's rind and is used widely in traditional Thai, Asia and Indian cuisines. It has also been used in traditional medicines for the purpose of weight control when used in conjunction with a calorie controlled diet.
The only active ingredient in this product is garcinia cambogia. That said, the inactive ingredients include: cellulose, silicone dioxide and magnesium stearate. The website specifically points out that this product is not appropriate for use by people following a vegetarian or vegan diet. This suggests that the cellulose in the ingredients list may actually be made of gelatin, which is an animal based substance.
In order to use the product according to the package directions, a user needs to take two of the capsules each day. They must take one of the Perfect Garcinia Plus Capsules in the morning and another one in the evening. Though it doesn't have to be taken with a meal, this is the preferable way to take the product according to the package directions. Furthermore, the instructions also recommend that the user drinks 8 glasses of water throughout the day while taking this product.
Though this ingredient is not proven, the active substance within the garcinia cambogia fruit rind is hydroxycitric acid (HCA). It is believed that this may help dieters by reducing their appetites while increasing fat burning. A limited number of studies have suggested that it works this way. This may occur due to inhibition of an enzyme in the body known as citrate lyase. This enzyme is a vital component in the production of body fat.
Garcinia cambogia may also increase serotonin levels within the brain. That neurotransmitter plays an important role in the part of the brain responsible for the production of the sensation of hunger, which could help to explain why some think that it reduces the appetite.