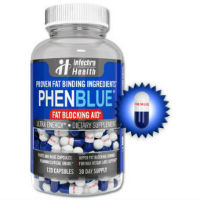 PHENBLUE is an over the counter dietary supplement made in the United States. It is a product designed to support healthy weight management in combination with nutritious and calorie controlled eating and regular activity.
This capsule is made by a company called Intechra Health Inc. That company is located in the U.S. where it manufactures all its products, which include other weight management supplements as well as those in other wellness categories. The facility in which the brand's products, including PHENBLUE, are manufactured is FDA cGMP. This means that it is certified as being compliant with the U.S. Food and Drug Administration's good manufacturing practices standards for quality and safety.
The PHENBLUE proprietary formula is made only of ingredients that have undergone clinical testing. These substances are known to be fat burners, appetite suppressants and fat blockers, among others.
Those types of substances, when combined with a healthy diet and exercise strategy as recommended by a doctor, can be very helpful to people who are trying to lose weight. The reason is that they can support them in overcoming some of the leading struggles associated with weight loss.
For example, fat burners are a preferred type of ingredient among dieters who include exercise among the efforts they make to lose weight. Fat burners boost the metabolism. This means that they will increase the rate of fat and calorie burning. While that's handy at a normal time, it can be even more beneficial during and following exercise – particularly cardio workouts – when fat burning rates have already been increased.
Appetite suppressants, on the other hand, are helpful for people who struggle with food cravings. These can help to regain control over tendencies to overeat unnecessarily. When this is combined with the right food choices, it can become much easier to remain within a healthy calorie limit.
Fat blockers are substances that help to reduce the amount of dietary fat absorbed by the body. For people who are struggling to control their fat intake and know they need to decrease it in order to lose weight, fat blockers can help to reduce the impact of consumed fat as the dieter learns to adjust his or her diet more appropriately in terms of food choices and portion sizes.
At the time this review was written, the PHENBLUE ingredients in the proprietary formula were: NeOPuntia® (Prickly Pear), Caffeine (150mg), Organic Green Tea (Matcha) Leaf Powder, and Theobromine.