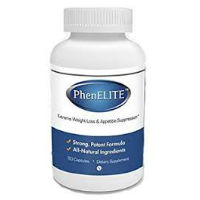 PhenELITE is a nonprescription diet supplement that is meant to help people who are attempting to lose weight to be able to do so more quickly and easily than would be possible if they were to stick to eating plans and exercise alone. The package label for this product claims that it will bring "extreme weight loss and appetite suppression" to its users.
At the same time, it claims that it will achieve that goal using all natural ingredients. Those substances comprise a "strong potent formula" if the product label is to be trusted.
The official website for this product claims that PhenELITE will boost the metabolism, the rate of fat burning and will encourage fat cells to break away more easily. That last claim is a rather interesting one as that is not actually how fat loss works. Fat cells do not break away from the body. The count of fat cells remains the same on the body from late adolescence to early adulthood onward. The only thing that changes is the size of the fat cells. Therefore, claiming that they will break away seems to be a rather misleading statement.
Along with the suppression of the appetite, PhenELITE is also supposed to function as a cravings buster. It helps to keep you from overeating so you can make the right choices to keep your caloric intake at a fat loss friendly level.
To accomplish this goal PhenELITE's proprietary formula has been made up of the following combination, according to the official website at the time of this review: raspberry ketone, green coffee bean, caffeine anhydrous, green tea extract and garcinia cambogia. All other ingredients in this product are non active and are simply anti-caking agents and the shell of the capsule itself. It should be noted that the capsule shell is made out of gelatin, which means that it is not appropriate for vegans or many vegetarians.
The active ingredients within this formula are quite commonplace in the nonprescription weight loss industry. That said, they are also primarily composed of substances that have not been proven effective for weight loss. There are some studies that indicate that there are some weight loss benefits to green tea extract and caffeine. However, green tea must be used in large amounts in order to be effective and it is second last on the ingredients list. As the product label does not provide the individual quantities in which the ingredients have been used, there is no way to know if there is as much green tea in this product as was used in the studies that showed that it had potential for helping with weight loss.