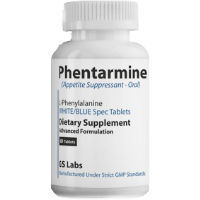 Phentarmine tablets are one of two forms of diet pill that are produced under this brand name by a manufacturer called GS Labs. That company is produces a number of different supplements within this category. The other one with the Phentarmine name comes in the form of capsules.
The design of Phentarmine tablets is based on a nutraceutical grade formula that has been created for the purpose of offering benefits such as appetite suppression, in order to give dieters the opportunity to lose weight more quickly than they have been capable of doing on their own. This is meant to help to keep the dieter's hunger levels under control so that it is possible to cut back on calories and, therefore, lose weight with greater ease. The official website for this product claims that it is manufactured under only the strictest standards of GMP.
That said, as much as the primary benefits of these diet pills are supposed to be appetite suppression, the official website also claims that thermogenesis is stimulated through the use of these ingredients. The site says that this process will help to reduce stress, improve circulation, assist in the breakdown of fat cells, balance blood sugar levels, and provide regulation of the metabolism. However, it is important to point out that thermogenesis is the process by which heat is produced by the body. When that process is increased, it means that the temperature of the individual rises. While many diet pills use thermogenesis so that the body will burn more calories and fats to create that heat (thereby creating faster fat burning), the process has not been directly linked to those additional benefits.
At the time of the writing of this review, Phentarmine tablets were being sold on the official website for $87 for a one month supply. That said, larger quantities were being sold at a slightly reduced rate, so it was possible for dieters to purchase the product more cheaply if they were certain that they would want to use it over time.
To better understand whether or not this will be the right product for you, it is a very good idea to first speak with a doctor. The next step is to look at the ingredients that make up these diet pills. At the time that this review was written, the official website was listing the ingredients in this formula as being: L-Phenylalanine, Synephrine HCL, Theobromine, Caffeine Anhydrous, Copper Sulfate, 7-Keto (DHEA), L-Carnitine, and L-Taurine.