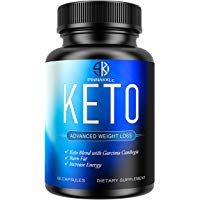 Pinnakkle Keto is a non-prescription weight loss pill made and manufactured by a company called Pinnakkle. There is next to no information available about this company over official channels as the official website consists of an oversized image of the brand's logo and a contact form. It also mentions that the company is based in Jersey City, New Jersey in the United States, though no actual address is provided to confirm that information
Right off the bat, the company leaves an impression that is difficult to trust, but it is still important to take a closer look before making a final decision about the Pinnakkle Keto product. After all, just because the company hasn't mastered its marketing, it doesn't mean that it hasn't created a worthwhile product.
The Pinnakkle Keto diet pills are available primarily on Amazon. They are not sold through the official company website. They are marketed as a type of fat burner and imply that they are truly unique within the market. Though the name of the product has "Keto" in it, nothing in the marketing or description for this product make any mention of using it along with ketogenic "Keto" dieting. It is more likely that the name is a shortened version of one of its ingredients, raspberry ketones.
That said, this does leave a customer to wonder whether the name of the product was designed as it was in order to take advantage of the current popularity of keto dieting.
The ingredients in this product include raspberry ketones, garcinia cambogia, green tea extract and green coffee bean extract. According to the product description, the entire formula is 100 percent natural. Together, they are supposed to help the user to achieve rapid weight loss while boosting energy levels quickly. It also says that it should be used for toning the body. That said, it does not provide any information regarding how it is meant to achieve those goals, nor does it cite any studies that would suggest the ingredients have been successfully researched for those purposes.
The description on Amazon calls it a "keto diet & weight loss supplement" but, again, does not make any mention of how it would work with a keto diet. It calls itself a metabolism booster and thermogenic fat burner and says it works as an appetite suppressant. That said, those features have nothing to do with ketogenic dieting. It's clear this product is simply trying to pull in customers who are interested in the keto diet, regardless of the fact that all the ingredients in its formula are highly commonplace in the non-prescription weight loss market and have nothing to do with achieving ketosis.
With far better products from more reliable companies on the market, it is highly unlikely that a physician would recommend this product.