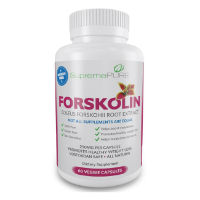 Premium Pure Forskolin is a nonprescription weight loss supplement made by a company called SupremePURE. This product is meant to be used by dieters who want to improve the effectiveness of the efforts they are already making to lose weight. Many dieters find that eating strategies and exercising simply don't provide the speed or size of the results they want. It is for this reason that SupremePURE created this diet pill.
At the time of the writing of this review, Premium Pure Forskolin contained 250 milligrams of coleus forskohlii extract (better known as ) and was being sold for $21.77 per bottle of 60 capsules. Each bottle provides a thirty day supply when used according to the package directions. This makes the product rather affordable for most dieters and quite competitive within this marketplace.
Of course, the price is only worth it if Premium Pure Forskolin actually lives up to its claims. When looking at the official webpage for this product on the manufacturer's website, it does appear as though this product has quite a bit in its favor. It is a single active ingredient vegetarian friendly capsule. It is gluten free and the page claims that the ingredient helps to speed up the metabolism while breaking down fat stored on the body and promoting healthy weight loss.
Unfortunately, it does not provide any references to studies that would indicate that this ingredient used in this quantity will safely and effectively lose weight. Instead, they have a "safety information" section that grammatically incorrectly advises people to half their dosage if they find themselves losing weight too quickly. This is clearly meant to imply that the product is so effective that it could actually make a user lose weight at a rate that is faster than what is recommended by doctors.
There is absolutely no evidence that would indicate that this could be possible through the use of this capsule, alone. While there is some limited and preliminary scientific evidence that suggests that this ingredient may help to promote better weight loss results when combined with dieting and exercise, the impact it has is mild, at best .
It is for that reason that most diet pills that use forskolin as an ingredient will combine it with a complete formula. That way, the benefits of this substance can be used in combination with those of other ingredients to produce a worthwhile effect.