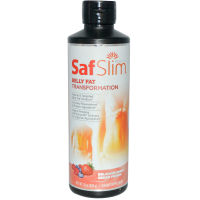 Safslim is a nonprescription weight loss supplement that is produced by a company called Re-Body, which is based in Florida. It is meant to be used as an alternative to the traditional pill format of diet supplements, as this is sold in a liquid that the user can drink. While this won't necessarily make it any more or less effective, it will likely be appealing to people who struggle to be able to swallow capsules and tablets.
This supplement is sold at a large number of different well known online retailers and marketplaces, such as GNC, QVC, and Amazon. These websites all have a relatively large number of positive customer reviews associated with Safslim, which suggests that there may be a good chance that it works for a good percentage of dieters.
The product is also described and sold from the official Re-Body website, which offers it in a range of different flavors. At the time of the writing of this review, those flavors included: Berry Cream Fusion, Key Lime Cream Fusion, Pina Colada Fusion, and Tangerine Cream Fusion.
These flavors are all sold for the same price ($39.99), and come in 16 ounce bottles, which should provide a dieter with a two week supply if it is used according to the directions. This means that the cost of a month's use of this supplement is $79.98. That price is on the higher side of average for this type of product. While it may be cost prohibitive for many dieters, provided that it works it may still be within the range that many people are willing to pay.
According to the official webpage for this product on the manufacturer's site, it contains an ingredient (high-linoleic safflower oil) that has been clinically proven to reduce abdominal fat. That said, that research was not cited, so it makes it difficult for a customer to be able to verify exactly what was proven and through the use of what techniques. The site did say that it was conducted as a part of a Ohio State University crossover study that was double-blind and involved the participation of 55 women who were overweight and post menopausal and who had high blood sugar levels.
Fifty five people is hardly a sample of the general population. As the actual results of the study were not shared it is still unknown as to what was found, but it is important to realize that in the medical community, this would be considered to be nothing greater than a preliminary study that would suggest whether or not further study would be required. Research of this size would never be acceptable as "proof" that something works and that it is safe, for that matter. That said, in all likelihood, this product should be safe for the majority of dieters to use. It is important to consult with a doctor before using it, to make sure that this is true for your specific needs and expectations.