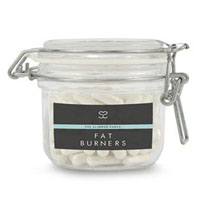 She Supps Fat Burner is an over the counter weight loss formulation that claims to provide fat burning ingredients and energy boosters.
The official site for the She Supps explains that the Fat Burner supplement is based primarily on caffeine, despite the fact that it contains several ingredients. The reason is that caffeine is known to provide users with more energy and raise the rate of fat burning, says the site. That said, while the website doesn't go to the extent of citing research, caffeine has indeed been studied and is shown to raise energy levels and alertness and may also increase the metabolism.
To use this product according to the package directions, users need to swallow one capsule in the morning with water and then a second one four to six hours later with more water. That said, it's important to make sure that the second pill is taken ahead of 3pm. The reason is that the caffeine content in this product is enough that it could cause sleep struggles if it is taken too close to bedtime.
There are 120 pills in every package of She Supps Fat Burner, which means that every bottle provides a two month supply.
At the time of the writing of this review, ingredients in this product included 180 mg of caffeine anhydrous, L-tyrosine, L-tryptophan, vitamin D3, L-taurine and vitamin B6. That amount of caffeine means that every pill contains the equivalent amount of caffeine to about two cups of coffee. This is a very high amount of caffeine considering that you will be taking all the caffeine at once as opposed to sipping it over time.
Moreover, this pill is taken twice per day, which means that a user will take the equivalent of about 4 cups of coffee in that time. This amount will cause many users to experience side effects.
The website also focuses on the fact that the product package itself is designed to be appealing. It is a clip top jar for a traditional elegance. This allows users to be able to leave the product on the countertop so it is conveniently accessible but still attractive enough to display. The lid has an airtight rubber seal and clip that is meant to keep the product fresh. Furthermore, the jar can be refilled as the product can be purchased in environmentally friendly refill bags once the customer has the bottle to refill.