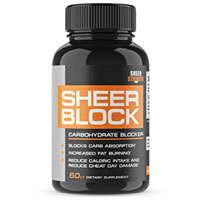 Sheer Block is an over the counter weight loss supplement sold by Sheer Strength Labs. It is designed to function as a carb blocker, which means that it is supposed to reduce the body's ability to absorb carbohydrates from the food you eat.
At the same time, this diet pill is also supposed to be able to speed up the body's fat burning and will "reduce cheat day damage" by decreasing the number of calories you get form your foods. The official website for this product calls it an all natural carbohydrate blocker that is "trusted". Moreover, it promises "real" results that a user will be able to both "see" and "feel".
Of course, it is standard practice for many different diet pill companies to make these types of claims. At the same time, this doesn't necessarily mean that they are true or that they will make any difference to the number you see on the scale when you weigh yourself.
To know whether or not Sheer Block is likely to make a difference to your weight loss strategy, it's a good idea to take the product's ingredients list to your doctor's office so you can discuss that combination of substances together.
At the time this review was written, the ingredients within the Sheer Block formula included: 445 milligrams of white kidney bean extract as well as 100 milligrams of green tea catechins. This is the amount in every 1 capsule serving.
To take Sheer Block according to the package directions, you must simply swallow 1 capsule whole with a full glass of water. The package recommends that you do not exceed one capsule per day.
With only two active ingredients and the amounts of each one clearly identified, this makes it very easy for a consumer to be able to look into the substances and decide whether or not there is enough of either substance to create the reaction they're seeking.
There are some studies to support the use of white kidney bean extract and green tea catechins. That said, there is considerably more evidence supporting the use of the latter ingredient than the former. Though neither of those substances are considered proven, this doesn't mean that they won't work. It just means that the research is still being conducted and it takes time to obtain proof at a medical level. It is for this, among other reasons, that consulting with a doctor before taking this type of product remains very important.