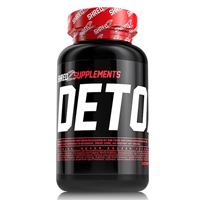 Shredz Detox is a nonprescription weight loss supplement made with women dieters in mind. It is a vitamin and mineral complex designed to provide digestive support while boosting the immune system as a whole.
This product contains a tremendous list of ingredients. Though many products boast about their lengthy ingredients lists, this may not always be a selling point. After all, when that list reaches a certain point, it makes one wonder if it contains enough of anything to be effective.
Furthermore, many people familiar with this industry would wonder if the same goals could be reached with a smaller number of high quality ingredients. After all, producing a product with a very long ingredients lists increases the risk of problems. It raises the chances that someone could have an adverse reaction to one of the ingredients in these diet pills. It also increases the chances of an allergic reaction. If there are more substances, there are more chances of a problem.
Equally, it's difficult to believe that with a list of ingredients this long in Shredz Detox that they're all contributing something meaningful enough to be worthwhile adding it.
What are the Shredz Detox ingredients? At the time this review was written, they were: Vitamin A (Beta Carotene), Vitamin B1 (Thiamine), Vitamin B12 1% (Cyanocobalamin), Vitamin B2 (Riboflavin), Vitamin B5 (Pantothenic Acid from D-Calcium Pantothenate) 92%, Vitamin B6 (Pyridoxine HCl), Vitamin B9 (Folic Acid), Vitamin C (Ascorbic Acid), Vitamin D3 (Cholecalciferol), Vitamin E (dl-alpha tocopheryl acetate), Activin (GrapeSeed) Extract (95% Polyphenols) (Vitis vinifera), African Mango Extract (Irvinia Gabonesis)(seed), Alpha Lipoic Acid, Calcium (Calcium Citrate, D-Calcium Pantothenate & Inositol Hexaphosphate (as IP-6)), Cranberry Extract (Vaccinium macrocarpon), Echinacea Extract (4% Polyphenols)(Echinacea purpurea), Inositol Hexaphosphate (as IP-6), Lemon Bioflavonoids (Citrus Limon)(peel), Leutein 5% (Tagetes erecta), Lychee Fruit Extract (Litchi chinensis)(fruit), Lycopene 5%, Magnesium (Magnesium Citrate & Inositol Hexaphosphate (as IP-6)) 16%, N-Acetyl-Cysteine, Olive Leaf Extract (10% Olea Europaea), Phosphorus (Inositol Hexaphosphate (as IP-6)), Psyllium Husk Powder (Plantago Ovata)(seed), Raspberry Ketones (Rubus idaeus)(fruit), and Zeaxanthin 5%.
According to the product package, Shredz Detox should be taken on workout days once during the first meal of the day and another one four to six hours later. That said, on days when you won't be training, the package directions recommend taking one capsule with the first meal of the day and the second capsule four to six hours with another meal.
It's highly recommended that you speak with a doctor before taking this product.