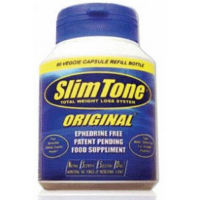 SlimTone Now is a nonprescription weight loss pill that brings together a range of substances that its manufacturer has claimed to be clinically proven. In order to use this supplement according to its instructions, it is not meant to be swallowed on its own to cause weight to simply melt away. Instead, it is one component of the Easy Weight Loss System that has been developed by the brand.
According to the product's official website, by following the dieting program and using SlimTone Now, the best possible results will be achieved. It is not entirely specific about what those results will be, but to be fair, that will likely depend on the individual dieter, how much weight he or she intends to lose, and how much effort he or she intends to put forward.
The claims from the website are that the way that this pill benefits the dieter who is following the complete program is that it promotes both appetite suppression and thermogenesis. In that way, it makes it easier for the dieter to eat less without feeling hungry (in theory, consuming fewer calories), and it makes it easier for the dieter to burn calories because he or she will be producing a higher amount of body heat, which burns calories and fats as fuel.
However, this is assuming that the pill will actually do as the website claims. In order to understand whether there is a chance that you could obtain those benefits from SlimTone, there are three primary steps required. The first is to speak with a doctor. That will help you to discover whether or not this product will be safe for you, as it is not appropriate for all dieters. The next is to look at the ingredients and see whether or not they have truly been proven to lead to greater fat loss in human dieters, as the site suggests. The last is to read honest customer reviews.
At the time of the writing of this review, the official website was listing the ingredients for SlimTone as being: guarana extract, green tea extract, acetyl-L carnitine, L-tyrosine, chromium chelate, conjugated lenoleic acid (CLA), sea weed extract, L-argenine and L-ornathine, and cocoa extract. This is a different list of ingredients that has previously been listed on the official website, which indicates that the formula has evolved since it was originally created.
While the website did point to some promising small studies that indicated that certain ingredients could be helpful to dieters, it was provided only for green tea extract and caffeine. None of the other ingredients were supported by any evidence that was cited on the website. This indicates that either the site is incomplete, or that only two of the ingredients have been connected with weight loss – though not directly linked with it.