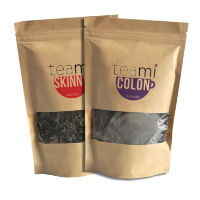 Teami Blends 30 Day Detox is a type of cleansing tea that is meant to be worked into a regular healthful daily routine in order to help to rid the body of toxins at the same time that it helps to prep the body to lose weight more effectively. The directions for this product recommend that this product be used on a daily basis in conjunction with healthful eating and fitness appropriate exercising. The claim is that because the body will be rid of the toxins that have been holding it back, weight loss and an overall healthy feeling will arrive much more easily.
Every package of Teami Blends 30 Day Detox comes with a month's supply of tea bags, including thirty of the TeaMi Skinny Tea and fifteen of the Teami Colon Cleanse Tea. By using this product every day for thirty days, the official webpage for this product on the brand's website claims that it will help your body to: start burning stored fat, boost the metabolism, increase energy levels in a natural way, reduce muscle tightness and spasms, detox the internal organs, flush out harsh toxins, improve the complexion, reduce bloating and repair digestive issues.
These incredible sounding results are supposed to come from the careful ingredients balance in each of the two teas that make up this system. The TeaMi Skinny Tea contains: Oolong, Yerba Mate, Lime leaf Extract, Lotus leaf, Ginger Root, Dandelion leaf and Rhubarb Root. These are very common ingredients in this type of product, consisting primarily of stimulants, diuretics and ingredients that will calm the stomach from the potential digestive upset that can be caused from those effects.
The TeaMi Colon Cleanse Tea is made of: Senna Leaf & Root, Hawthorn Berry Extract, Lotus Leaf, Lime Leaf & Extract, Psyllium Husk Seed, Phaseolus Calcaratus Seed, Rhubarb Root, Poria Cocos Stem Bark and Valerian Root. These are also very common ingredients that are often used as laxatives, diuretics and even sedatives.
Before taking this product, it is important to speak with a doctor. Most licensed medical professionals do not recommend colon cleanses and detoxes, as they tend to place strain on the body's organs and any benefit they actually provide is considered to be quite minimal. Moreover, this type of cleansing can be dangerous for people with certain common medical conditions, which also makes it important to consult with a doctor before going ahead with this or any other product that makes similar claims.