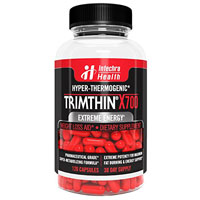 TRIMTHIN X700 is an over the counter supplement product developed to be used as a part of an overall weight management strategy. This product is marketed primarily as an extreme energy pill, though it also offers a range of other potential benefits that can give dieters an advantage.
These diet pills are made and manufactured by Intechra Health Inc. This company also makes a number of other weight management pills as well as supplements in other wellness categories. It is an American company that boasts products manufactured only in U.S. facilities. Each of its supplements, including TRIMTHIN X700 are manufactured in facilities that comply with strict production regulations and guidelines.  This allows dieters to be confident in the safety and quality standards met throughout the manufacturing of the pills.
At the time of the writing of this review, TRIMTHIN X700 contained the following ingredients: Green Tea (Camelia sinensis) (leaf) Extract, Green Coffee (Coffea arabica) (bean) Extract 4:1, Conjugated Linoleic Acid, Caffeine, Xanthinol Nicotinate, Cnidium (Cnidium monnieri) (fruit) Powder, Eleuthero (root) (Eleutherococcus senticosus) Powder.
This proprietary formula contains only substances that have been clinically researched. This allows dieters to know that TRIMTHIN X700 is made entirely of ingredients that have been investigated by the scientific and/or medical communities in order to better understand what they can do and how they work.
These substances include energy enhancers to make sure dieters can keep up with their busy lives and still fit in a workout on a regular basis. They also help dieters to make sure they will stick to their exercise routines without falling victim to fatigue.  When you don't feel that you're too tired to move after a busy day, you're far more likely to keep that promise to yourself to head to the gym.
Moreover, they also consist of thermogenesis supporters to keep the body primed to burn calories every time you complete another fat burning workout. This is particularly helpful to dieters who regularly take part in cardio exercise, since those are the workouts that burn the most calories both while you're doing them and for minutes or even hours afterward.
As such, TRIMTHIN X700 is not a diet pill that claims to somehow cause fat to magically melt away. This is actually a very positive feature as there has yet to be any diet pill – prescription or nonprescription – that has proven itself effective in living up to that type of claim. Therefore, the fact that the manufacturers of this product encourage dieters to combine its use with healthy eating and regular exercise suggests that it has taken a notably more realistic approach to weight management than many other products in this market.