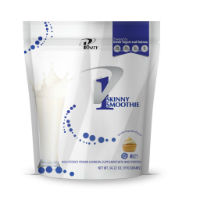 The V1 Skinny Smoothie is a diet supplement in the form of a beverage, which has been designed to allow people to be able to "discover your inner skinny." According to the official webpage for this product on the manufacturer's website, it was created to provide appetite suppression, improve the metabolic rate and to support overall wellness.
At the time of the writing of this review, the official page for this product provided an extremely small amount of information about what is actually in this product and the image of the product is laid out in a way in which the nutrition facts label is deliberately covered. The package label does say that it is "powered by Greek yogurt and quinoa" but it doesn't mention whether or not other ingredients are also included in this product.
It explains the reason for including Greek yogurt as being because its nutrition content helps with muscle building and weight loss. Equally it says that quinoa was included because this grain includes protein, omegas and fiber.
This product is vanilla cupcake flavor and is meant to provide a thick and creamy smoothie for adults or children. To prepare it for an adult, one scoop of the V1 Skinny Smoothie must be combined with 8 ounces of liquid. For a child (ages 4 to 11), only half a scoop of the powder is mixed with between 4 and 8 ounces of liquid, depending on the desired consistency.
Among the types of liquid that can be combined with the powder include any milk product – including dairy, soy, rice, coconut or almond – juice or water. The product must be either mixed or shaken into the liquid until it is fully dissolved. For a more creamy texture to the beverage, ice should be blended into the mix. It is recommended that the entire beverage be consumed chilled, within a span of fifteen minutes of preparation.
According to the website, consuming this smoothie will make a dieter "feel better, slimmer and energized."
Based on the limited information on the official website, it is unclear as to when this product should be consumed or how many should be enjoyed per day. It is marketed as a supplement but it is not stated whether this should be taken as a meal replacement, as a snack or as a complement to a meal in order to obtain greater nutritional benefits.
There is a very small amount of official information available about V1 Skinny Smoothie, making it difficult to understand just what it is, how it should be used or why.