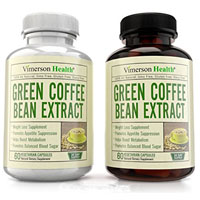 Vimerson Health Green Coffee Bean Extract is a nonprescription weight loss supplement. The formula is designed to be 100 percent GMO free, natural, dairy free, gluten free and helpful as a part of a natural weight loss strategy. It's meant to function by reducing the appetite, balancing blood sugar levels and enhancing the metabolic rate.
There is one main active ingredient within this product, both of which is based on green coffee bean. At the time this review was written, it contained 800 mg of Green Coffee Bean Extract which contains Green Coffee Antioxidants (50 percent chlorogenic acid).
Green coffee bean is a hugely hyped ingredient in the nonprescription weight loss industry. It is included in products from a spectrum of different quality levels. This means that while this ingredient is found in products that are extremely high quality, they're also in some very low quality products as well. It is impossible to tell based on this ingredient whether or not a product is high quality or not.
That said, when a product includes other ingredients that have more research to support their inclusion, it makes it easier to decide whether or not the diet pills might work. However, as this product contains only green coffee bean extract, it makes it much more difficult to determine whether or not it could actually work.
The reason is that there isn't a lot of reputable research to support claims about this substance. There had been a good sized study published but its results have since been called into question as the method was flawed. Therefore, the strongest medical support the ingredient has was a recommendation from Dr. Oz on his television show. However, the daytime television host found himself in some hot water with a federal Senate committee for just that type of unsupported recommendation. He has since stated that his recommendations of that nature were a mistake.
Still, the Vimerson Health Green Coffee Bean Extract website still states that the product, based exclusively on this one active ingredient, helps dieters through appetite reduction, fat burning, cholesterol control, sugar level regulation, food craving reduction, mood support, metabolism boosting, energy enhancement and digestive system function improvement.
According to the directions, taking this product involves using one capsule on an empty stomach a half hour before dinner. This pill should be taken daily in this way for thirty days.
Due to the lack of scientific evidence and the risk of side effects, it's very important to speak with a doctor before using this product.