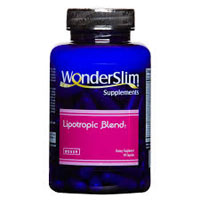 WonderSlim Lipotropic Blend is an over the counter weight loss supplement sold in packages of 90 capsules. This product is designed to help dieters to be able to reach their weight loss goals more quickly and effectively than they can by dieting and exercising. It is meant to accomplish this by offering a range of metabolism boosting ingredients that are also supposed to produce a "lipotropic" action that become "an efficient weapon in your war against excess pounds."
This product is also supposed to help dieters to keep their food cravings under control. The official website recommends that dieters combine the use of WonderSlim Lipotropic Blend with a healthy diet and regular exercise in order to be able to take full advantage of the benefits and to lose weight as quickly as possible.
The lipotropic effect of these diet pills is supposed to function by encouraging the body not to store as much fat and to use what has been stored as a primary source of energy. In essence, it is supposed to help you to burn more fat while making it more challenging to put it back on again.
The formula for these pills is a combination of various spices, plants and berries. There are thirty servings in every bottle and every serving consists of three capsules, meaning that one bottle contains ninety pills.
At the time this review was written, the WonderSlim Lipotropic Blend ingredients consisted of: vitamin C and B6, chromium picolinate, gamma linoleic acid, conjugated linoleic acid (CLA), bladderwrack powder, choline bitartrate, inositol, gymnema sylvestre powder, garcinia cambogia, L-carnitine, curcumin powder, coQ10, and a proprietary blend made of kelp, spirulina, L-phenylalanine, L-tyrosine, L-mehionine, bromelain, psyllium, juniper berries, uva ursi, buchu leaves, cloves, allspice, cinnamon, cranberry and grapefruit.
At first glance, there are several things that stand out about this formula and the way it is presented on the official webpage for it on its brand website. The first is that there is no reference to any reputable scientific studies published in medical journals to support the use of any of these ingredients or the formula as a whole for the purpose of weight loss.
Next, many of these ingredients are used in formulas as a result of hype and mentions from Dr. Oz, an activity for which he has since apologized and called a mistake after having had to face a federal Senate Committee for his continual endorsement of unproven ingredients.
Finally, this product contains more than one diuretic, which means that it may be more likely that dieters will lose weight through water loss and not necessarily fat loss. Moreover, that weight will only come back again once the dieter has rehydrated.