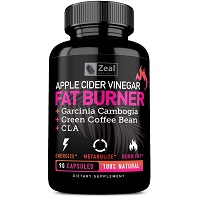 Zeal Naturals Apple Cider Vinegar Fat Burner is an over the counter weight loss supplement that claims to make it easier for you to lose weight. In fact, it directly states that it is meant for people who want to lose weight fast, thought it doesn't actually state that this is what it will provide. Therefore, it's a good idea to take a closer examination of the claims and study the ingredients in this formula so you'll be able to know if you can trust this product and what it can do for you.
As the name of Zeal Naturals Apple Cider Vinegar Fat Burner suggests, it does actually include apple cider vinegar among its ingredients. That said, it also contains garcinia cambogia, conjugated linoleic acid (CLA flower), caffeine from green coffee bean, and black pepper extract.
The official webpage for this product on the brand's website states that the benefits of taking Zeal Naturals Apple Cider Vinegar Fat Burner include "clean and powerful" energy boosting and appetite suppression. It also mentions that using this product can help to provide your body with a "detox cleanse". Finally, it also provides fat burning.
The official site does not cite any studies as proof of its claims. That said, while each of those ingredients has had research conducted on them, there is inadequate research to consider these substances to be proven for the purposes the manufacturer claims to have used them.
Though this doesn't necessarily mean that the ingredients won't work, it also means that there isn't solid evidence to indicate that it will. Moreover, even assuming these ingredients do work, without adequate research, there is no way to know exactly how much should be used to maximize their potential outcomes. Furthermore, without enough study, it's impossible to know what will happen if too much is taken of these substances, or if they're taken in combination with each other.
While Zeal Naturals Apple Cider Vinegar Fat Burner may indeed be able to live up to its claims, research has not yet proven this to be true. As a result, it's very important to speak with your doctor before you start using these supplements. This will at least help you to know that you won't be placing your health at risk regardless of whether or not they can help you. Your doctor will help you to find out if these ingredients will conflict with any medical conditions you have, supplements you take or medications you are using.